IMPORTANT: 
Read Below BEFORE You Watch Your "Hyperrealistic Coke Bottle" Tutorial Video
(Your video will be delivered to your email in about 15 minutes).
Congratulations!
Your Hyperrealistic Coke Bottle tutorial video is on its way.
While you're waiting for your video, I want to take a minute to talk to you about your goals.
If you're just looking to see my process, learn about the concepts of hyperrealism, and gain inspiration and encouragement, the video you're about to watch may be all you need. If that's all you're interested in, then you can go ahead and exit out of this page...
However, if your goal is to be able to create YOUR OWN hyperrealistic art, you'll need to follow along, and this video alone doesn't give you quite everything you need to do that.
Want to make a hyperrealistic Coke bottle drawing that you can show as your own?
I have the line drawing you'll need in order to do that. I also have the reference photo you'll need, and I even have a step-by-step book for you with over 80 photos and text instruction.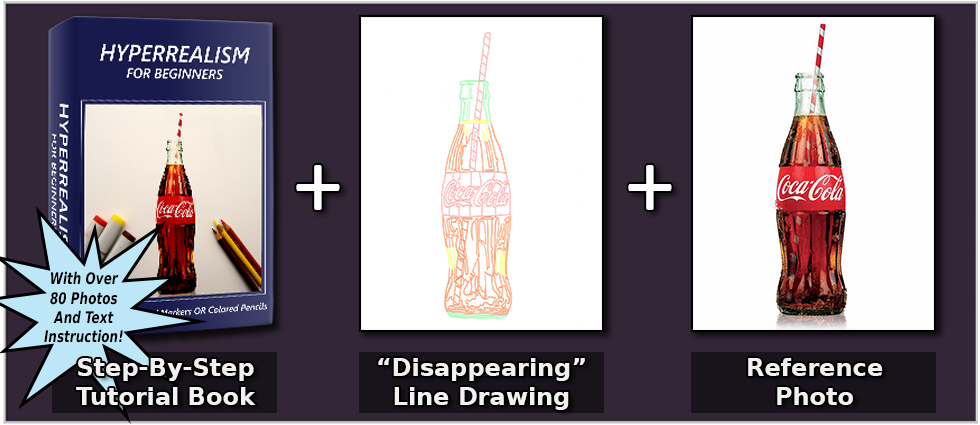 With these three things as an addition to your video, you'll have a really great start at achieving your goals.
But I want to make it even easier for you.
I want you to have literally everything you need to succeed. That's why today, without having to become a member of the Academy, I'm gonna throw in the rest of the resources for the Coke bottle that I gave to my Academy students.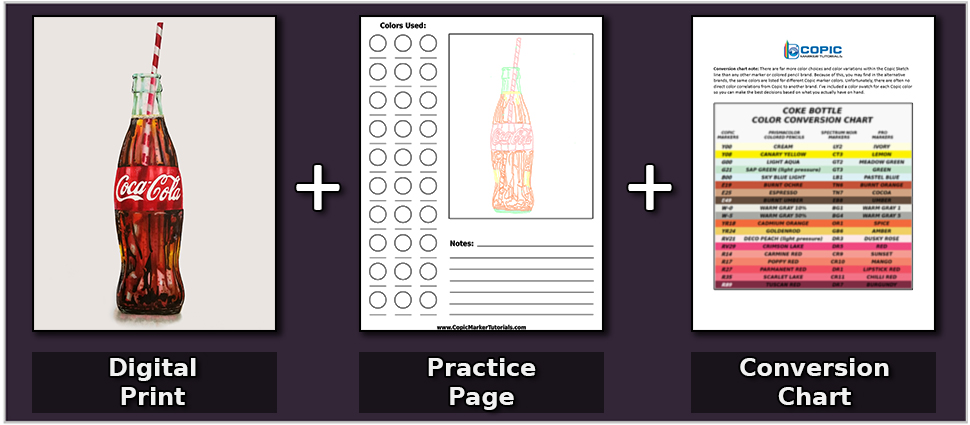 You'll get a digital print of the Coke bottle drawing I made, a practice page so you can work out the hard parts before hand, and even a color conversion chart in case you don't have Copics and are using either Prismacolor colored pencils, Spectrum Noir markers, or ProMarkers.
But that's still not all.
If you accept, I'm going to give you access to the Student/Teacher Lounge, a private Facebook community which is normally reserved only for my Color Academy Ink students.

In the Lounge, you can get live help from me while you are working through creating your own hyperrealistic Coke bottle, and I'll help you personally if you get stuck.
Again, these bonus materials are normally only available to my Academy members, but today, for a very limited time, I'm making them available to you for only $7.
Yep, Just $7...
That's an 80% discount!
Where else can you get so much awesome for so little?
100% MONEY BACK GUARANTEE
...and hey, if you're worried about a guarantee, I've got a great one for you...
Order your hyperrealistic Coke bottle class today and if it's not the most comprehensive class on the subject you've ever seen, I'll give you your money back, no questions asked!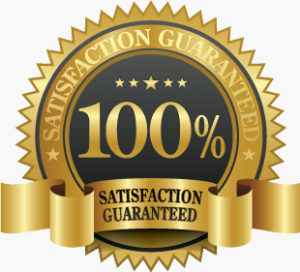 Click the "Add To Cart" button and start making your own hyperrealistic art today…

-OR-
Frequently Asked Questions

Still sitting on the fence? (That can't be comfortable.) Here are answers to some of the most commonly asked questions...
Q: 

How is this class different than your regular tutorials?
The full class is more like a tutorial on steroids. In addition to the 28 minute video, you'll get a 32 pg. step by step book with over 80 photos; I just cant do that in a blog post.
You'll also get all the materials you need to make your own amazing hyperrealistic coke bottle drawing.
You'll get a disappearing line drawing, reference photo, practice page, color conversion chart, and access to the Student/Teacher Lounge where you can get real-time help on your drawing. (By the way, this is the first time I've EVER allowed access into the private community to anyone other than Academy members.)
Q: 

How long do I have to access this class?
The Hyperrealistic Coke Bottle Class is an online, self-paced class, and you can learn from anywhere in the world. You'll get lifetime access so you can work on the material any time you want.
Your login and access information will be sent to the email address you provide, and you will be sent a direct link to access your class.
Q: 

Why $7?
If you're thinking "$7 is cheap…what's the catch?" then here are three reasons that should put your mind at ease:
 1. $7 puts this information within the reach of everyone…and lets you see my process and teaching style before you join my Academy.

2. It helps you take art seriously. Look, if I gave all of this to you for free, you may or may not ever use it, but if you are serious enough about improving your art to make even a small investment of money, I know you're serious enough to invest your time into getting better.

3. It helps cover the cost of what it took to make it. Hey, I'm a professional artist - I make my living making drawings, not classes. Creating this takes time away from my commissions, and a boy's gotta eat.
Q:

Is there a guarantee?
Yep…all our classes have a 30-day, no-questions-asked guarantee.
If you go through the class and feel like you didn't learn a damn thing new, just contact us to get a full refund. Obviously I don't think it'll come to that, but if you're even a little bit worried about whether this will work for you, then put your mind at ease. You either get the results you want or you get your money back!
Hurry… Get The Hyperrealistic Coke Bottle Class Now!!
Order now and get:
- 32 Pg. Step-by-step instructional book with 84 photos and text explanation on how to color a hyperrealistic Coke bottle like a pro
- "Disappearing" Line drawing
- Reference photo
- Practice Page
- Color conversion chart for use with different media
- Digital Print by Christopher Kerry
- Access to the Student/Teacher Lounge for live help on your drawing
- 30-day money back guarantee
…all for just $7. Click the "Add To Cart" button now for INSTANT ACCESS!