IMPORTANT: 
Read Below BEFORE You Start Coloring Your "Pinups & Puppy Dogs" Coloring Page
(Please allow 10 - 15 Minutes for delivery).
Congratulations!
Your new Pinups & Puppy Dogs coloring page is on its way.
So let me ask you...
Now that you've got something unique and different to color, do you know what colors to use to make it really pop?
Do me a favor... close your eyes..... imagine your new page, perfectly finished... exactly the way you want it...
Do you have the confidence to color it exactly the way you saw it in your head?
If not, then, you're in luck...
Did you know I made a narrated video and step-by-step tutorial book to help you color your new page?
Yep, I did... and once you have it you'll know exactly what techniques to use to color your page to look as good as looked in your head.
Get the narrated video and step-by-step book.
Even if you're a new colorist, or if you've struggled with color and blending in the past, this book and video will show you how to color your new pages like a pro, faster and easier than you ever thought possible.
Let me show you a glimpse of my process:
With so many tutorials on YouTube, you may be thinking you've seen this before. But trust me...this is unique.
And once you see what I'm doing, slowed down and taken step by step...
...once you know the secrets that will bring your work to life...
...you'll be coloring like a professional and making pages you never knew you could...
Take a peek inside my
"Color & Create" Class: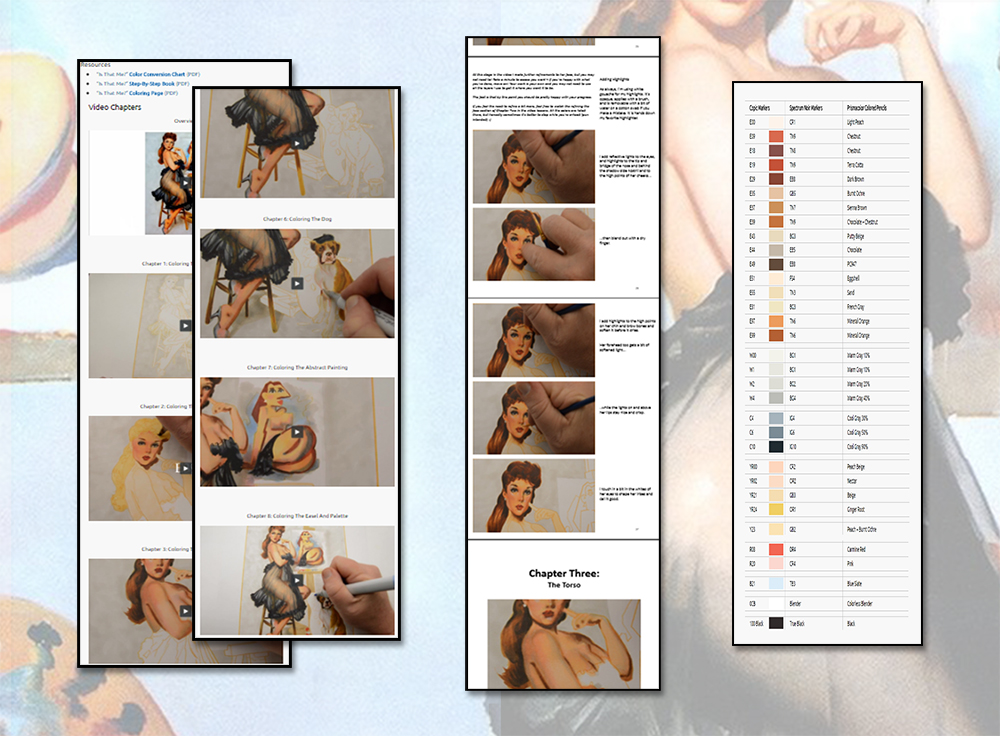 To call this class a "tutorial" doesn't do it justice...
...this is more like a "tutorial on STEROIDS."
In this class, you'll learn how to:
Create harmonious color schemes to bring your creation to life...
Render "problem" objects like skin, hair, drapery, etc...
Correct "mistakes", even when they are HUGE.
Place your shadows and highlights to make your drawing come alive
Make your viewers look EXACTLY WHERE YOU WANT THEM TO...
Convert marker colors across different brands and even to colored pencils
And soooo much more...
Coloring your page without this class could be super challenging.
Frankly, if you don't know what you're doing when it comes to using color, you'll be wasting your time starting over and over again because you're disappointed with your results...
And I don't want that to happen to you!
I want you to CRUSH IT...even if you're new to coloring!
Look, you don't have to make mistakes and be disappointed with your work.
…I do this stuff for a living!!
I can show you WHAT WORKS, what pitfalls to avoid, and how to color that page like a pro.
So here's the deal...
The step-by-step tutorial book with over 200 images and text explanation, color conversion chart, and nearly 2 hours of narrated video of my entire coloring process, normally costs $18...
However, for a very limited time I'll let you have INSTANT ACCESS to this class for just $7.
Yep, Just $7...
Literally, you can have one of those fancy coffees at Starbucks or you can access a proven plan for turning your new coloring page into a masterpiece.
The choice is yours…
Click the "Add To Cart" button and unlock your true potential today…

-OR-
Frequently Asked Questions

Still sitting on the fence? (That can't be comfortable.) Here are answers to some of the most commonly asked questions...
Q: 

How is this class different than your regular tutorials?
 
The Color & Create class is more like a tutorial on steroids. This class contains almost 2 hours of video and over 200 step-by-step photos; I just cant do that in a blog post.
…This class is like watching a professional artist work and having them explain what they are thinking, not just what they're doing!
Over the last 10 years I have:
-Figured out the fastest, easiest way to add color to my drawings and get awesome results...
Stripped out the things that didn't work, while improving on the things that did.
Taught hundreds of people just like you how to make art that makes them proud of their work and gets them noticed...
The information I provide in the step-by-step book and fully narrated video will allow you to repeat my success again and again.
These classes are all about taking action and getting results as quickly and easily as possible.
 
Q: 

How long do I have to access this class?
 
The Color & Create class is an online, self-paced class, and you can learn from anywhere in the world. You'll get lifetime access so you can work on the material any time you want.
Your login and access information will be sent to the email address you provide, and you will be sent a direct link to access your class.
Q: 

Why $7?

If you're thinking "$7 is cheap…what's the catch?" then here are three reasons that should put your mind at ease:
 1. $7 puts this information within the reach of everyone…and lets you see my process and teaching style before you join my Academy.

2. It helps you take coloring seriously. Look, if I gave all of this to you for free, you may or may not ever use it, but if you are serious enough about improving your coloring to make even a small investment of money, I know you're serious enough to invest your time into getting better.

3. It helps cover the cost of what it took to make it. Hey, I'm a professional artist - I make my living making drawings, not classes. Creating this takes time away from my commissions, and a boy's gotta eat.
I also believe that once you experience this class, you'll want more and maybe… just maybe…you'll come back, and possibly even upgrade to Color Academy Ink where you get access to the complete library of resources.

Q:

Is there a guarantee?

Yep…all our classes have a 30-day, no-questions-asked guarantee.
If you go through the class, color your page, and feel like you didn't learn a damn thing new, just show us your finished page and get a full refund. Obviously I don't think it'll come to that, but if you're even a little bit worried about whether this will work for you, then put your mind at ease. You either get the results you want or you get your money back!
Hurry…
Get The Color & Create Class Now!!

Order now and get:
- 106 Pg. Step-by-step instructional book with 261 photos and text explanation on how to color your page like a pro
- 100 minutes of fully narrated video, broken into easy to consume chapters
- Conversion chart for use with different media
- 30-day money back guarantee
…all for just $7. Click the "Add To Cart" button now for INSTANT ACCESS!