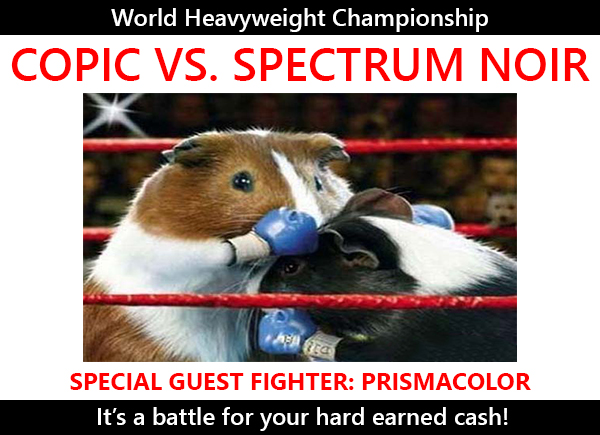 Ask anybody and they will tell you…
Copic markers are expensive. It seems no matter where you look, the best price you can find for an individual Sketch marker is just over $5. The reason for this is that the Too Corporation, the company that manufactures Copic markers, actually sets the lowest retail price that any authorized Copic dealer can sell their Copics for. So $5.24 is the lowest price that you can get a Copic Sketch or a Copic Classic marker. (The Ciao style markers are less expensive.)
$5.24 is a lot for a single marker, especially when you compare it to the price of the other coloring materials that are out there.
For example:
Copic Sketch marker – $5.24 each
Spectrum Noir marker – $1.49 each (but you can only buy them in sets of 6)
Prismacolor Premier marker – $3.68 each
Prismacolor Premier colored pencil  – $1.29 each
Note: All prices are current as of this writing and are prices listed for these materials on the Dick Blick website.
Copic vs. Spectrum Noir vs. Prismacolor
At first glance, it's a no-brainer… Copics are the most expensive of the bunch. But… let's look just a bit deeper and see what happens.
Of the coloring options listed above, only Copic markers and Spectrum Noir markers are refillable. That means for Prismacolor markers and Prismacolor pencils, you have to buy new every time you run out. So let's compare the long term costs of Copic markers versus Prismacolor markers and Prismacolor pencils.
An individual Copic Sketch marker costs $5.24, and a refill for that marker costs $4.58. That's a total of $10 for a single marker and a single bottle of refill ink. Now, a refill bottle will fill an empty sketch marker 9 times. So if we count the original filled marker as one, and add the 9 refills that we get from the bottle of refill ink, we end up with 10 full Copic markers.
With me so far? Good.
So you get 10 total marker fills for $10 when you purchase both a Copic sketch marker and the related refill color.
Now I'm not good at math, but if I use both hands and some of my toes, that seems to equal only $1 per full marker.
Now let's look at the Prismacolor options… Each Prismacolor marker costs $3.58. There are no refills for Prismacolor markers, so the markers aren't refillable. That means when your marker runs dry, your only option is to buy a new one. So to get the same 10 dry-to-full uses from a Prismacolor marker, you'd need to buy 10 individual markers of the same color at a total cost of $36.80!
The same principle holds true for the Prismacolor pencils. Clearly you can't refill a pencil once you've used it all up and sharpened it down to a nub. So to get the same amount of color from a Prismacolor pencil as you would from a single Copic marker and a single refill bottle, you would need to buy ten individual pencils at $1.29 a piece, for a total price of $12.90.
Now again, I'm not great at math, but last I checked, $12.90 is more than $10.
When we look at the long term cost of a Copic Sketch marker versus Prismacolor pencils or Prismacolor markers, it's easy to see that Copics are actually less expensive than either of the Prismacolor options.
Now let's compare Copics to the Spectrum Noir line. To be honest, there's no way this can be a fair comparison. The Spectrum Noir markers are unarguably of lower quality, with fewer color options, and are much more difficult to use. However, since they are a popular marker brand, let's go ahead and compare prices to see where we end up.
Now, Spectrum Noir doesn't sell their markers individually, so you have to buy them in packs of 6. A set of 6 Spectrum Noir markers cost $8.95. So just for the sake of simplicity, let's divide that $8.95 by 6, and that gives us a price of $1.49 per marker. Like Copic, Spectrum's markers are refillable. A single bottle of Spectrum refill ink, at $4.46 per bottle, will refill a Spectrum Noir marker 12 times. So if we add together $1.49 for a single marker and $4.46 for the refill ink, we end up with a total cost of $5.95 for 13 dry-to-full Spectrum markers of a single color.
Sounds good, right?
It would be, except for that pesky detail that you can only buy Spectrum Noir markers in sets… So for $13.41 (a set of 6 markers plus a one refill bottle) you get 13 full markers of a single color and 5 single markers of different colors with no refills. When those other 5 markers run dry, you either have to buy a whole new set for another $8.95, or buy refills for each of those markers at $4.46 each. The total cost to purchase and refill a set of 6 Spectrum Noir markers is $35.71.
All of a sudden they don't sound so economical, do they?
Now if we're being fair, we'd have to compare the price of 6 Copic Sketch markers and 6 related refill inks to the price of 6 Spectrum Noir markers and refill inks. When we do, we find that the price for the Copics is $60 versus the $35.71 price for the Spectrum Noir markers.
No matter how you slice it, Spectrum Noir markers are less expensive than Copic Sketch markers.
But if you're concerned with both budget and quality, a more fair comparison would be Spectrum Noir versus Copic Ciao. Individual Copic Ciao markers cost $3.59 a piece. And remember, a single bottle of Copic refill ink costs $4.58. However, that bottle of refill ink will refill a Copic Ciao 15 times. So if we do the math, $3.59 plus $4.58 equals $8.17 for 16 dry-to-full Copic Ciao markers.
Here's a head to head comparison of
Copic Ciao and Spectrum Noir:
Spectrum Noir:
$8.95 for a set of 6 markers
$26.76 for 6 bottles of refill ink ($4.46 each)
12 refills per marker for a total of 72 refills
total cost – $35.71, or $0.45 per marker
Copic Ciao:
$21.54 for 6 markers
$27.48 for 6 bottles of refill ink ($4.58 each)
15 refills per marker for a total of 90 refills
total cost – $49.02, or $0.51 per marker
Once again, when all the math is said and done, Spectrum Noir markers are cheaper than any of the Copic marker alternatives. But cheaper really is the operative word here. Cheaper and more limited. The Copic Ciao line consists of 180 colors. The Spectrum Noir line consists of 168 colors. Copic Ciaos are higher quality, easier to blend, available as singles, and more comfortable to use.
So I ask you… does the price difference of $0.06 per marker really justify using lower quality materials with fewer color options?
I think not.
Look, there's no question that Copic markers are the highest quality markers on the planet. They also offer more color choices than any other line of marker or colored pencil. As I've shown above, they actually cost less than any Prismacolor product, marker or pencil, over long term use, and they're even very comparable to the cheapest "serious" alternative out there. (My apologies to Sharpie lovers. Sharpies are pretty cool, but they just don't offer the ease of blendability and color choices necessary to be a serious alternative to Copics.)
The bottom line?
When all is said and done, the math doesn't lie. Depending on which marker you choose, Copic markers are at worst only $0.06 per marker more expensive than the lowest quality alternative, and they're actually way less expensive over extended use than any other high quality brand. So do yourself a favor… get the best. They really aren't that expensive. You'll get better results and be happier with your work. Copics really are the best value of any marker brand available today.
Note: Copic marker tutorials is not an authorized Copic marker dealer. We do not get any kickbacks or any financial compensation from Copic marker or the parent company, Too Corporation. The truth is, we don't make a penny if you choose to buy Copic markers. We recommend Copic markers over any other coloring medium because in our experience, they are of the highest quality and offer the best value for your money.
Are you surprised at these results? Sound off in the comments below and let me know!
How helpful was this post?
1 Star: Oh man, that sucked… 5 Stars: Good God, it's brilliant!






(275 votes, average: 4.34 out of 5)


Loading...
---