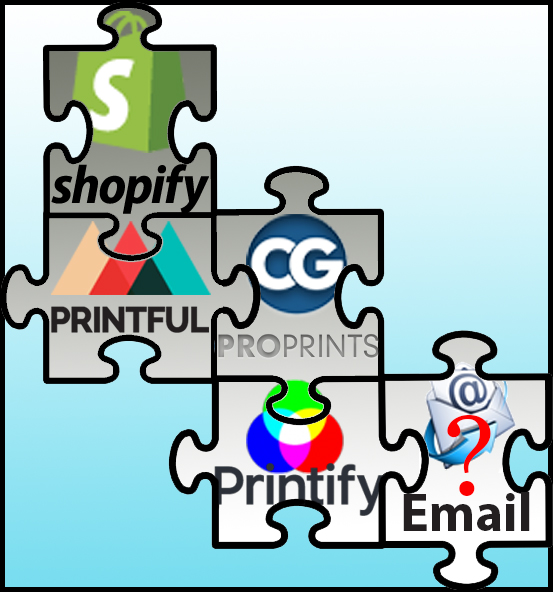 *UPDATE: This article was originally written in January 2016, and has been updated as of December 2016 with new information to reflect the current state of print on demands for the artist. This is the most accurate and up to date information you'll find on this subject anywhere.

By now I'm sure you've all heard of a little thing called print on demand (POD for short), but do you really know what it is, why you should be using it, and which print on demand services to avoid like a hoard of hungry zombies?
No?
Well then, this is the post you've been looking for.
Before we talk about what qualities we should be looking for in a POD service provider, I feel the need to talk a bit about the big companies that come to most people's minds when they think of print on demand. I think for most people, print on demand means companies like Redbubble, Zazzle, or Fine Art America. While it's true that these companies have a POD service attached to their sites (several different ones in fact), they're not strictly PODs themselves. Companies like this should be thought of more as online art galleries as opposed to print on demands. Their primary goal is to show and sell an artist's work. Their print on demand service is simply a by-product of that goal.
Wait…
Strike that.
Their primary goal is to make tons of money by taking advantage of artists, paying small percentages of the total sales, printing low quality items, and using the artist to bring them customers which they promptly steal and market other artists' work to. Companies like this put your art in their packaging with their company logo and name, invoice in their company name, and add your customers to their mailing list, all of which is horrible for you as the artist.
A good POD, a real POD, does the exact opposite of those things.
When considering these companies as a viable option for selling your art, you should ask yourself this question – how do sites like Redbubble, Zazzle, and Fine Art America stay in business? Their websites are huge and expensive to maintain. Their email service alone sends thousands of emails each month to artists and people who have made purchases. The bigger the email list, the more expensive it is to manage it. I can guarantee these companies spend thousands of dollars each month just to send out emails.
So where do they get the money to pay for their expensive sites? How do they pay their bills? It's free for an artist to put their work on these sites, so they aren't getting it from the artist. That only leaves them one choice – to get it from your customers. These sites use you to bring them customers. They always get more money than you do, and they add your customers to their list so they can make even more.
Remember last week when I said that in order for a business to be profitable it must:
Increase its customer base
Increase the average transaction amount
Increase the number of transactions per customer
These companies use you to bring them customers to increase their customer base.
Then they suggest artwork by other artists to the people you worked hard to bring over to increase the average transaction amount for each customer.
They then add your customer to their mailing list so they can spam them with special deals and product offerings in an effort to get them to purchase again, to increase the overall number of transactions per customer.
It's good business for them and very bad business for you. These guys are not PODs, they are art-for-the-masses megastores, and they are in business for themselves. They do not give a shit about you.
What to Look for in a
Print on Demand Company
A good print on demand company should be first and foremost, invisible to your customer. Your customers, the ones you worked hard to acquire, are not their customers. You are their customer. As their customer, you are the source of their income, and they should work hard to make you happy with quality products and services. You are the reason they are in business.
A good print on demand company should:
Have white-label shipping with your branding on everything
Have set prices for their products and services
Clearly state their shipping charges
Have fast turn around time
Let you set your own profit margins
Get paid by you after the sale, and not the other way around
Have excellent customer service
Have no minimum order amounts
Integrate with your store
Make products that have quality printing
Fortunately for us, there are several companies that meet most or all of these criteria.
The following recommendations are based on how well each of the companies meet the qualifications laid out above. While there are at least ten options in the POD category that an artist could use for this service, I have narrowed them down to three for this post.
Each of these companies made the list for different reasons, and we will be using all of them on our store at the same time. All of them use white label shipping, and between the three of them, we will be able to build out our brands, automate product creation, payment, and shipping, and keep our customers for ourselves. The companies I recommend and will be using to build out our test store are The Printful, CG Pro prints, and Printify.
Let's take a look at them one at a time.

Throughout the rest of the posts in this series, we will be using The Printful as our primary print on demand service. The Printful is a small startup company that operates out of California. They print everything in house and their quality is top notch. More importantly, their quality control is one of the best in the business.
Because they are a startup, a relatively new company that needs to prove themselves in the market, they understand the needs of small business owners like us. They know what it's like to start a new business from the ground up.
The Printful currently integrates with:
WooCommerce
Storenvy
Bigcommerce
OpenCart
Ecwid
Gumroad
Tictail
Big Cartel
Squarespace, Etsy, and Amazon (via ShipStation)
The Printful interface is easy to use. They make it as easy as possible to connect their service to your store and to mock up your art on the products they offer, so you can show pictures of your products in your store. They don't have all of their products available in their mock up generator yet, but they provide mock up images and templates for every product to easily create product images using Photoshop or other image editing software.
The Printful's customer service is amazing. They are quick to answer any question you have and will work with you if you have a problem. They also have an extensive collection of how-to videos on their YouTube channel and plenty of other resources to help you get up and running. These guys really are the shit.
If I had any complaint about The Printful at all, it would be that their low-priced product offerings are a bit limited. They don't do stickers, and their art print sizes are rather limited as well, with no small, low cost sizes available.
While I see these as limitations, these things could also be seen as a testament to their commitment to quality. They don't make everything in every size and shape, they only make what they are really good at making, and consequently, everything they make is really good.
In the model that we are building in these posts, we will use The Printful for our high quality, higher priced items including:
All-over die sublimated shirts, dresses, and skirts
Digital printed (DGT) garments (including shirts, sweatshirts, socks, baby clothing, and pet clothing)
Phone cases
Mugs
Tote bags
Pillows
Leggings
Hats and beanies
That's actually a lot of products, especially when you start thinking about size and color variants. For example, let's say you have ten images you want to put on products. If you put those images on shirts, you'll need different sizes like small, medium, and large, and you'll want different colored shirts as well, let's say white, black, blue, gray, and pink. Each color is offered in the sizes above, so if we do the math, that equals 150 shirt styles to choose from. Not too shabby. Add in the other product types and you'll have several hundred products all from a single print on demand company.
But as good as they are, The Printful doesn't offer everything we need (yet). To make our business model run at peak efficiency, we need to have at least some low cost items to offer as incentive to turn "just lookers" into paying customers. For our model, we need some products, perhaps small prints or stickers or buttons, that we can sell at cost. Ideally, we want something that we can offer to our customers for 99 cents.
What we want is a product that is so desirable and so cheap and easy to buy that our prospects can not hep but add it to their cart, thereby changing their relationship with us from just lookers to valued customers.
Since The Printful doesn't offer any product that we can sell for 99 cents and still break even, we will need to use another print on demand to fulfill this need.

CG Pro Prints (CGPP) is a print on demand company that caters specifically to artists and photographers, and specializes in art and photographic prints on paper and canvas. CGPP is a division of Circle Graphics Inc, one of the largest producers of large format digital graphics. They have close to 500 employees and work around the clock 7 days a week producing orders for their customers. Their facility can print over a million square feet a day, and their quality and price are hard to beat. With white label shipping and outstanding customer service, these guys are simply one of the best in the business when it comes to printing your art on traditional art surfaces.
CGPP integrates seamlessly with Shopify and WooCommerce, and they are in the process of adding integrations for Magento, Open Cart, Storenvy, Volusion, Etsy, and Bigcommerce.
Their mockup generator offers multiple different product views, and a 3D preview of your products to make sure that everything looks the way you want it to before you upload it to your store. Products that aren't currently available in their generator can be created in Photoshop or another photo editing tool by using their extensive product image library, which is really pretty awesome.
CGPP also provides an extensive how-to manual with detailed instructions on how to set up the app, create products, and add them to your store. These guys really do care about your success with their products and services and are quick to provide detailed answers to even the most complex questions. When it comes to printing your art on traditional artist surfaces, CG Pro Prints really can't be beat.

Click for enlarged details
In our model, we will be using CG Pro Prints for:
Gallery minis (our low cost offer)
Gallery wrapped canvas
Giant repositionable wall clings
Standard prints
Canvas prints

Printify is a print on demand company built specifically for use with Shopify storefronts. Because they are designed to work with Shopify and Shopify only, integrating them with your Shopify store is a breeze. Their mockup generator does everything automatically. You simply add an image and it goes to work putting that image on whatever products you've specified.
Like the other companies here, they offer white label shipping and are invisible to your customer. Printify's product offerings are very similar in most respects to The Printful. They offer a selection of garments, prints, mugs, phone cases and laptop sleeves. Printify offers a wide range of device cases for both Apple and Samsung phones, while the only cases that The Printful offers are iPhone cases. They also offer notebooks and journals at a pretty low price in comparison to the other products. From a quality standpoint, their garment printing is lower quality than The Printful, however, their posters, wall decals, and canvases are actually printed by CG Pro Print, so their quality on those items are obviously top notch.
We really only need to add Printify to our model if having both Apple and Samsung phone cases is important to us, and if we want to offer laptop sleeves, notebooks, or journals.
We will be using Printify in this model for:
Device cases
Laptop Sleeves
Notebooks
Journals
By attaching the three PODs we've discussed above to our Shopify storefront, we can offer a wide range of very high quality, affordable products to our store.
Our list of available products looks something like this:
Phone cases
Laptop sleeves
Mugs
Pillows
Journals
Notebooks
Direct to garment T-shirts
Die sublimated shirts
Die sublimated dresses
Die sublimated skirts
Tank tops
Long sleeve shirts
Pullover hoodies
Zipup hoodies
Socks
Kids T's and tanks
Baby T's
Baby onesies
Hats and beanies
Leggings
Doggie tanks
Posters (with and without frames)
Repositionable wall decals
Prints
Gallery wrapped canvas
Rolled canvas
Gallery minis
Giclee prints
Momento ornaments
It's quite an extensive list, and when you consider size and color variation as well, you literally have thousands of products you can put on your store to be printed and shipped by someone else while you sit back and collect the check.
So there you have it. My best recommendations for the print on demand companies we will be using to build out the business model for our store. If you need a refresher on what that model looks like, you can find that info here and here.
Oh and one more thing…
Choosing a print on demand company to make your products is a personal choice. You can't really know which one is best for you if you don't know what products you intend to sell, and you can't really know what products to sell unless you've done the market research to determine who your audience is and what kind of products they like to buy.
Because your market may be different than mine, I will go ahead and include a list of the print on demand companies we looked at while writing this post. A word of caution though – I did not choose these companies for one reason or another, even though some of them appeared to be viable options in the beginning of our research.
These are the print on demand services that did not make the list:
MAKEABLE/PRINT.IO  –   Lots of products, but poor quality, horrible customer service, poor quality instruction, difficult product mockup process
PRINT AURA  –  No mockup generator, low quality garment printing
GALLOREE  –  No integration with e-commerce platforms
AMPLIFIER/MERCHIFY  –  Inconsistent quality, turn around times, and customer service
SCALABLE PRESS  –  Very slow turn around times
LEVEL PRESS  –  Good quality, but only 1 product type (shirts)
TEELAUNCH  –  Inconsistent customer service and turn around time
PRESSERA  –  Slow customer service, slow delivery time
KITE  –  No mockup generator, unclear product and shipping prices, poor instruction
Feel free to look these over and decide for yourself. You can never have too much knowledge, and the better informed you are, the better choices you'll make.
Next we'll take a look at the email service providers we'll be using to build out this business model. Until then, sound off in the comments below and let me know you're still listening 🙂
DISCLAIMER: This post contains affiliate links to services that I have researched fully and highly recommend. I will receive a small commission if you purchase through one of these affiliate links, but the price you pay is the same.
How helpful was this post?
1 Star: Oh man, that sucked… 5 Stars: Good God, it's brilliant!






(152 votes, average: 4.75 out of 5)


Loading...
---