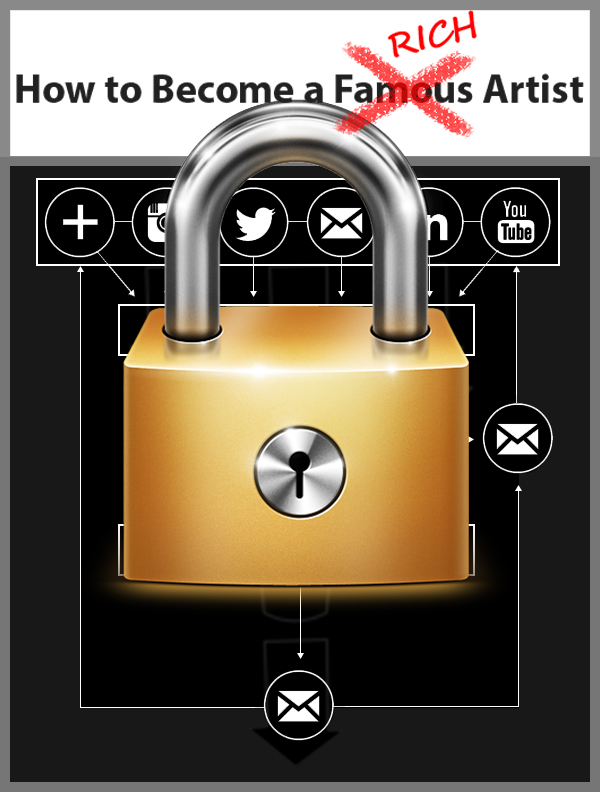 Why Should You Read This Post?
I've been selling my art for most of my adult life. I've sold my work on prints, t-shirts, stickers, and mugs, just to name a few. My original Copic drawings sell for nearly $1000 each, and my work is collected around the world. I even have work in a museum. I know how to sell art. But to tell you the truth, up until now, I've been doing it the hard way. I want things to be easier for you.
Is this post for you?
Having someone tell you what worked for them is one thing, but will it work for you? We all have different styles and do different things. Is there really a system that will work for everyone? Yes there is, and this is it. Let me show you.
IF YOU ARE A…
Copic/fan art/anime/manga artist
This system will show you how to sell your fan art or original drawings to tons of fans who are willing and eager to buy.
Digital artist
Yep, works for you too. Since you create your art digitally at high resolution, you'll be able to put your art on tons of products at a price that everyone can afford.
Tattooist
You know those intricate drawings you work out to do a tattoo? Color those up with traditional or digital media and you have another product to sell. Imagine a heart and dagger "mother" tattoo printed on a child's t-shirt.
Stamper/crafter/scrapbooker
Imagine your images on throw pillows, blankets, shirts, and mugs. Your friends and family are gonna love it, and other people will too.
Basically anybody who makes any type of two-dimensional art can use what I'm going to show you to generate (and nearly automate) making money with their art.
Selling Your Art is Hard
Look, I get it. Selling your art is hard to do. Sometimes it may even seem impossible, and there's not a lot of help to be found. If you do a google search on "how to sell your art", you'll find that the best advice the internet has to offer are things like open an Etsy store, get listed on Society6, try to get into a gallery, or build a website and start a blog. The problem is, most of these options suck.
Opening an Etsy store gives you a place to sell your art, but doesn't help you actually sell it. No good. Getting listed on Society6, Red Bubble, Zazzle, or any other "art commerce superstore" is the worst thing an artist can do for their career. (More about this below.)
As for trying to get into a gallery… yeah, good luck with that.
The problem with all of these suggestions is they only tell you where you can show your art, but if you don't know how to sell your art, you're in trouble. Showing your art or letting people know it's for sale is simply not enough.
What's Wrong With Sites Like Society6
On the surface, services like Society6, Red Bubble, or Zazzle seem like an amazing opportunity for an artist. If you're not familiar with these sites, they are essentially art mega-stores. They allow the artist to upload their work into a personal gallery, and then put that art on all kinds of products. You can then create a profile and offer your work for sale. They also manufacture all the items and ship them to the buyer after purchase, and then credit your account with the funds. Sounds great, doesn't it? Well it's not, and here's why…
When a customer receives an order from one of these companies (Zazzle for example), they open a Zazzle box, check out their Zazzle receipt, and unpack the art that they bought from Zazzle. Even if you did an amazing job on the art they bought, all those other things reinforce the idea that if they want great art at a great price, they should buy it from Zazzle.
Good god.
These companies are in business to sell stuff, but they are not in business to sell your stuff. When you join a site like this, you're just another face in the crowd. But that's not the worst of it. The worst part is that if you do happen to get an order, these companies package your art in their packaging, and then steal your customer and add them to their mailing list so they can spam them with emails and special deals. These guys are in business for themselves, and they are using you to help them get more customers.
What's "Wrong" With a Website?
Ok, so let me start by saying that having your own website is not in and of itself a bad thing. The problem is, most people don't really understand what a website is supposed to do. You might think you need a website so people can find your art online. But let me ask you something – with over 1 BILLION websites worldwide, how are you going to get them to find yours? Oh sure, you can push your site on your social media, or hand out business cards to anyone who will take one, and a few people may pop over to see what's going on. They may even take a few minutes to take a look at your art. But statistically, they seldom buy anything, and are gone without you ever knowing they were there.
Here's what you need to know about websites – unless you have a way to constantly drive people to your website, hundreds at a time on a daily basis, and then get them to actually make a transaction by either exchanging their email for something you have, or buying something, a website is absolutely worthless.
If you have a website or think you need one, please understand that in order for any website to work, it must do these three things:
capture emails
build trust with your audience
make sales
If your website isn't doing at least two of these things right now, as you're gearing up to do the third, it's never ever going to work the way you want it to. But the good news is, with this system, you really don't need a website. At least not yet, and maybe even never.
Note: The subject of how to structure a great website and what the hell to do with it once you've got it is a HUGE topic. If you've got one, or are still convinced you need one, and want to hear more on the subject, let me know in the comments below and we can talk about it.
What's "Wrong" With a Blog?
Let me be clear. You do not have to have a blog. They aren't a bad thing, but just like a website, most people don't really understand what function they actually serve. Contrary to popular belief, blogging in and of itself will not get you hundreds of new followers. It will not dramatically increase your google search page-rank. And it will not in and of itself ever make you money. Ever.
A blog is good for two things only. Building trust and getting people off your blog and on to your sales page. The blog should never be thought of as a way to make money.
Note: Again, this is a deep subject. I'm only touching on it here because I'm trying to get to the good stuff. If you want to talk more about this subject, sound off in the comments below!
There is a Better Way
What if there really was a way to have your art on all those products and have them made and shipped anywhere in the world in YOUR packaging, from YOUR personal store, where you have dozens of customers going each day just to see YOUR art? Now that would be something special. Well guess what? I have figured out how to do just that, and you won't need to build a website or write a single blog post.
Sound good? Good. Let's get to it.
I've been working for months now to try and figure out an easy way for the individual artist (that's you) to get tons of people to buy their art without having to build and manage a website or write a weekly blog. Why? Because artists need time to art, and that other stuff takes too much time, and if the truth were told, building a website and writing a blog will not really help you sell your art. What will help you sell your art is a plan, and boy do I have a plan for you. I'm super excited about it.
The Plan
So how can you get the exposure you need and actually turn that exposure into income?
Just like this: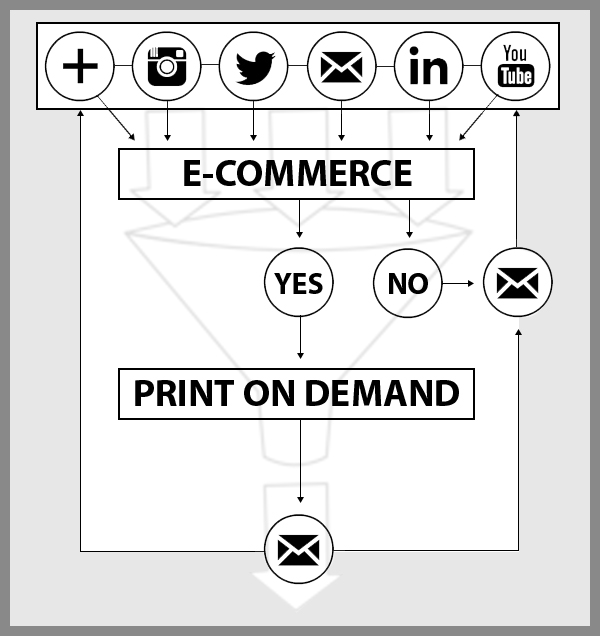 You really should print this out and hang it somewhere you can see it.
The diagram above is called a sales funnel, and if you don't have one you need one. The big idea is this: you use your various social media sites (which ever ones you have) to get your fans and followers to go to your eCommerce store where they are amazed by your art and can get everything they like on anything they want. And because you'll be able to have stickers, prints, and shirts, etc, you'll have lots of different price points from low to high. That means anyone can afford to buy something no matter what their budget is.
So, they buy as much cool stuff as they can afford, and your eCommerce store bills their Paypal, then pays your Paypal, and places the order with a print on demand company who prints your art and then packages it in your branded packaging and ships it anywhere on the planet. All while you're sitting on the couch in your underwear, sipping on a refreshing beverage.
Let me show you how it's awesome.

You use your social media to show your work and generate interest and build trust. The more work you post, the more your followers get to know both you and your art. Through this exposure, they come to trust that you make great art because they see it every day. The most amazing thing about social media is it allows you to gather together tons of people who really love your art and have already interacted with you through likes and comments. These are your customers. Now all we gotta do is get them to your store. (More on this later.)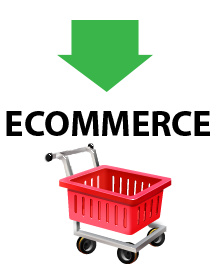 When your fans and followers get to your store, you dazzle them with shock and awe. That cool drawing or tattoo design, or card or stamp that they saw on your social media is also on t-shirts, stickers, mugs, phone covers, etc. How cool is that? Plus, the phone covers and stickers are cheap. They can get the art they love at a price they can afford, and it's actually useful too! After they finalize their purchase…
they are taken to a thank you page that tells them their order is being made on demand just for them, and will be shipped to their front door soon. It also encourages them to enter their email for shipping updates and to get sneak peeks at the new works you're making. This step captures their email and gives you permission to email them with new products or YouTube videos and other art goodness and puts them back into the top of your funnel so you can have another chance to show and sell them great art they will love.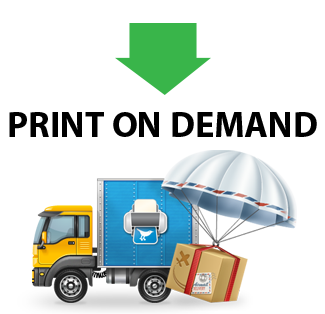 The print on demand service gets the order from your eCommerce store, makes the products, and packs it up in your branded packaging, and ships it out. The cool thing is, you don't pay for anything up front. No minimum orders, and no stock. Everything is made on demand and after you've already been payed.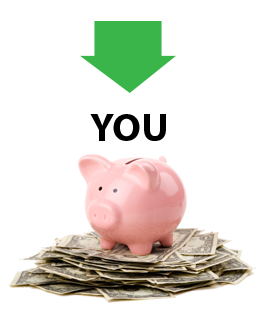 Get paid, make more art.
How awesome is that?
Ok, so here's the deal. I am really very super excited about this funnel. (Maybe you haven't noticed.) If you still don't understand it, or have questions about a step, please go over it again. This really could change everything for you.
Still have questions?
I'm sure you do. Like…
Guess what? I'd freaking love to answer all of those questions, but it would take at least ten more posts to actually do it, and I don't want to bore you with a bunch of posts if you're not really interested in the concept. So if you want me to explain this in detail, and show you step by step how to do it, with clear instruction and video, all in this blog, without charging a cent for the information, you've got to let me know in the comments below.
Seriously guys, I need to see a lot of comments to justify the time it would take to explain it all. So sound off, or next week I'ma do a tutorial on how to draw AIR. Step. By. Step.
One more thing
Just to be clear. For those of you who know a thing or two about digital marketing. I do know that a fully fleshed out marketing funnel that includes landing pages and lead magnets, tripwires, core offers, profit maximizers, email segmentation, product splintering, and return paths, driven by social media, blogs, and paid ads, is the ultimate way to create sales online. But it's complicated with a huge learning curve and expensive paid services. The funnel outlined in this post can be done for less than $50, and applies the core elements of a professional funnel, in an awesome and easy to understand way. Just sayin.
How helpful was this post?
1 Star: Oh man, that sucked… 5 Stars: Good God, it's brilliant!






(72 votes, average: 4.74 out of 5)


Loading...
---