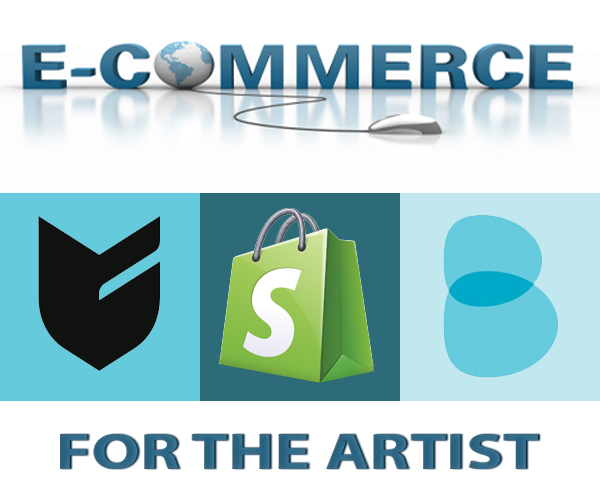 In last week's post, I outlined a sales funnel for artists who want to grow their business and sell their art online. This week I'm going to introduce you to the top three "build your own store" e-commerce sites for artists. It's a rumble in the jungle, a Texas death match, where only one will survive. Brace yourself for the carnage!
Ok, sorry, got a little carried away there.
The truth is, each of the e-commerce sites I'll be reviewing have their own pros and cons. What works for one artist may not be best for another. I know which one I want to use to build out the funnel I'll be showing in these posts, but that doesn't necessarily mean that it's the best one for you. So let's go through them carefully and take a good hard look at what they have to offer. In the end I'll let you know which one I want to use and why, but ultimately it is up to you to decide which one you think is best for your particular goals. There is no such thing as a one size fits all e-commerce solution. You have got to make your choice based on your own research and goals.
One more thing we need to talk about before we get started is this –
I am legally obliged to tell you that if you choose to implement this funnel or follow any of the advice given in these posts, your results are not guaranteed. This is NOT a get rich quick scheme and I am not responsible for the choices you make based on my advice. Ok? Ok, let's get to it.
Over the last several years, e-commerce has begun to dramatically shift the way artists sell their art. The days of needing a gallery so you can sell your art to the elite are coming to an end. You see, nowadays there's this thing called the Internet, and it provides a fast and easy way for people to buy our work without having to go to a gallery or convention. Our work can now be seen by anybody, anywhere in the world, even those big time art collectors who used to hang out in galleries.
There are many e-commerce companies out there and it seems like more and more pop up each day. It's important to understand which of these sites let you market and sell your art with the least restriction and build an artistic empire that helps you take over the world. With so many to choose from, which one is right for you? Hell if I know, so let's find out together.
Big Cartel
Big Cartel was founded in 2005 and was designed specifically for artists. Of the e-commerce sites reviewed in this post, it is the least expensive to operate and the easiest to get up and running. You can start with a free account and upload up to 5 products, attach your PayPal, and you're essentially good to go. There are no hidden fees, no bandwidth limitations, and they do not charge transaction fees on anything you sell. However, they only take payments through PayPal, and PayPal does charge a fee for each transaction they process. Big Cartel's paid plans range from $9.99 to $29.99 per month and you can upgrade, downgrade, or cancel at anytime.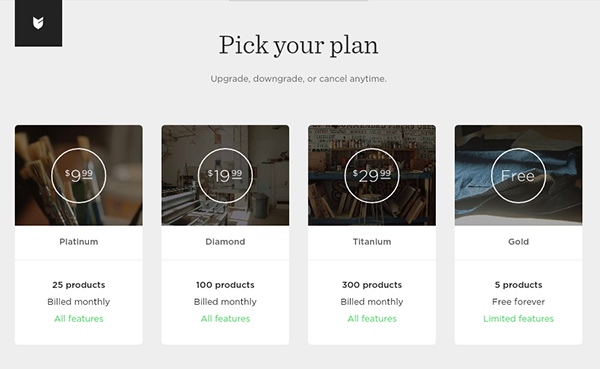 Today the company hosts more than 250,000 stores and features artists from all around the world. If you are looking to sell a few products or try your hand at selling your art without making a serious commitment, this may be exactly the right platform for you. I have personally used Big Cartel for several years with some success, and it's great for creating a little bit of residual income. But if you're serious about making money with your art, Big Cartel is not a platform I would recommend. Here's why –
While Big Cartel gets major points for its affordable price structure and ease of use, its lack of features is not easy to overlook. Currently, and I don't expect this to change anytime soon, Big Cartel only has five storefront themes to choose from, and only 3 of them are mobile responsive. What that means for you is that regardless of which theme you choose, your store's basic look, layout, and function will be exactly the same as 50,000 other artists, unless you know how to code or you hire a developer to code it for you.
Big Cartel is also limited on other key features that are necessary to really build a fully functional sales funnel. Not good if you really want to get your name out there and sell your art. On the other hand, the one thing I can say about my Big Cartel store is that it always manages to pay for itself whether I'm driving traffic to it or not.
Customer Support:
This is a big one for me. If there is one thing I have learned while running this website and blog for the last 6 months it's that customer support is super important. When things go wrong (and trust me, things will go wrong) you really need the ability to get a hold of somebody 24/7 anytime you need them. Big Cartel's customer support solution is email, Monday through Friday from 9-5 Eastern Standard time. No phone support, no live chat. Email. On weekdays. This simply won't cut it. At least for me. But is it right for you?
Even with its limited features, if you were of the mind to keep it simple and were willing to accept small sales numbers and the limitations on influencing customer behavior, a Big Cartel store attached to a Mailchimp account and Printful (a print-on-demand company we will talk about next week) would come in at less than 30 bucks a month, and would easily pay for itself and make a small profit if you worked your Instagram and drove traffic regularly. Not bad, but not nearly as good as it could be.
Shopify
Shopify was founded in 2006 and is one of the fastest growing companies in the world. Today they host over 120,000 stores, with more added each day. Shopify's primary focus is on design, and this can be seen not only in the design of the platform itself but in their very extensive themes library as well. Shopify users can select from hundreds of built in pre-made themes or build their own if they know how. While many themes are free, there are also premium themes available that typically range from $80 to $200.
Like Big Cartel, Shopify comes with all of the basic tools necessary to set up and run an online store. However, unlike Big Cartel, Shopify has an amazing app store featuring advanced marketing functions like pop-ups, abandoned cart savers and killer SEO and data analytics. In fact, the Shopify App Store currently has over 1,100 apps developed both in house and by third party developers. With plenty of options, an in store blog if you want it, and seamless integration with damn near everything, it's safe to say that if you want something, they have it. A lot of the services come standard, and some apps are free while others only offer a limited free trial followed by a monthly fee. On the down side, Shopify does charge a transaction fee unless you use their pay gate.
The Shopify platform has a limited time free trial before a monthly fee kicks in. Unlike Big Cartel, there is no free plan to be found. Prices range from $29 to $179 per month for most users, but they also have a "let's talk about it in private, super expensive pricing so high we can't even tell you what it will be" plan for god only knows who could afford it. Probably the most unusual thing about Shopify is their $9 "lite" plan. This plan does not include an online storefront or any of the integrations or apps. Instead, it offers the hobby artist a Facebook "store" and buy it now buttons, effectively turning that social media platform into an online mini store. Kinda neat if you're into that kinda thing.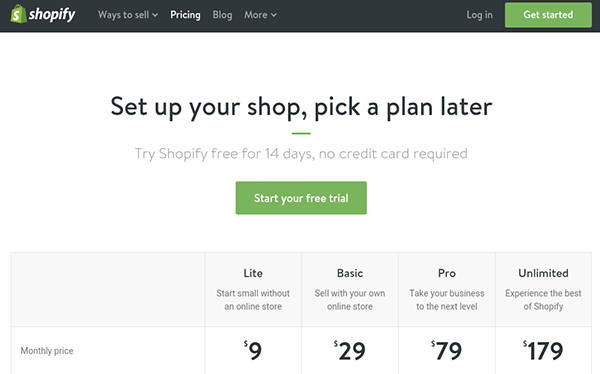 The best thing about Shopify is their third party integrations. Their platform works with just about everybody. Nearly every major email marketing service provider integrates with Shopify as does most major print-on-demand companies and nearly anybody else you can think of or could possibly ever need. If you're looking for a platform with all the bells and whistles you need, look no further than Shopify.
While the pricing is expensive, at least compared to Big Cartel, a $29 a month plan with a select number of apps to support your marketing goals, attached to an appropriate email marketing service and any number of print-on-demand services (perhaps two or more at the same time) could, depending on the marketing tactics you apply, more than pay for itself month over month and give us the opportunity for real growth and earning potential. We may not hit our under $50 a month goal, but we won't be over by much, and if it pays all its own expenses and puts extra money in our pockets, do we really care?
Customer support:
Shopify's customer support is really good, with agents available via live chat or phone 24/7 even if you don't have an account. They are friendly and helpful and willing to work with you to solve your problems.
BigCommerce
Compared to the other services on this list, BigCommerce is the new kid on the block, but that hasn't stopped it from getting big fast. With a ton of features that just keep growing, BigCommerce is working really hard to be the best choice out there. In most respects it's very similar to Shopify. Its payment plans are almost identical and its user interface is too.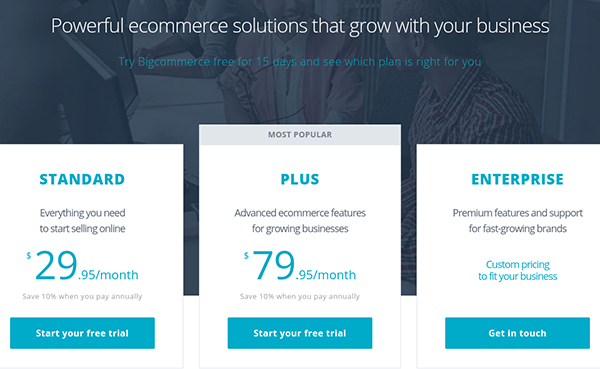 There are hundreds of themes and apps both free and paid, but their integrations with third party vendors are fewer than Shopify. However, BigCommerce just announced a major new integration – it has partnered with alibaba.com, a Chinese direct to merchant wholesale company that offers thousands of products to the merchant right from the BigCommerce platform. While the ability to offer wholesale products will be a huge benefit for small and mid-sized businesses offering consumer products, it doesn't do much for the artist. However, this integration may push BigCommerce to the top spot soon as that partnership will draw more users and consequently more third party apps aimed at those users.
Like Shopify, BigCommerce comes standard with a built-in blog feature and an App Store that allows you to add the extra functions you need simply and easily.
There are no transaction fees with BigCommerce regardless of what pay gate you use, which allows your BigCommerce to accept payment from anywhere in the world, a feature that Shopify's pay gate lacks.
Customer Support:
The BigCommerce customer support team is flat out awesome. They are available when ever you need them even if you aren't signed up for an account. They are friendly, super helpful, and even called me to make sure I got the answers I needed. How cool is that?
All things considered, a BigCommerce store connected to an email marketing service and a print-on-demand service would definitely do the job well, but the fewer apps and integrations makes it hard to choose them over Shopify (for now at least). I do think BigCommerce is the best in terms of customer service which is a huge plus, but I just can't get the add-ons that I really want with them. At least not yet.
So which one is the winner?
Well, that depends… If you're looking to get up and running with an online store as fast and inexpensively as possible and you're OK with limited design options, limited payment options, and fewer sales, then Big Cartel is the clear winner. I think Big Cartel is hands down the best choice for a hobby artist not looking to make a living but wanting a place to sell nonetheless, and when connected to Printful you'll be able to put your art on all kinds of products and have them shipped anywhere in the world. Not bad. And if you're selling less than 25 products you could do it all for less than 25 bucks a month. However…
If you're looking to become a serious professional artist who makes their living selling their art, or want to expand your existing tattoo, convention, or commission art sales business, then Shopify or BigCommerce is clearly the way to go. Honestly, BigCommerce and Shopify are so similar that choosing between the two is really hard. It all comes down to what's important to you. If the transaction fees are a deal breaker for you, then BigCommerce is the best option, but for me, Shopify has all the apps and integrations I need to really make this thing sing. So my pick for this blog series at least is Shopify.
Having said that, please understand that if I were building a sales funnel for a client, I would choose whichever of these three platforms best suited their needs and goals.
Oh, and one more thing…
It is my intent throughout the course of this blog series to actually build a sales funnel step by step so you can see how it's done. Once it's built, I'll show you exactly how many followers were added to the Instagram account I build this on (we are gonna start with five followers or less), how many of those followers actually went to the store, and how I got them to do that. I'll also show you exactly how much money was made month over month using this funnel. But here's the thing – I really need you guys to talk back to me. So do me a favor, each week sound off in the comments below and let and me know what you think and what questions you still have. I am writing these posts for you (I already know this stuff so I'm not doing it for me lol) and I don't just want to monologue like an evil villain in a bad comic, so talk back, chime in and tell me what you want.
So now that you're gonna leave me a comment, I have a question for you:
Which of these three platforms best suit your particular needs? Like I mentioned earlier, I want to build this funnel as we go and your answers will help me decide which platform to build on for these posts. My intent is to build it out on Shopify to show you what a fully functional sales funnel can do, BUT, if most of you guys are planning on using Big Cartel or BigCommerce then that's something I really need to know.
Next week we will take a look at print-on-demand. I'm super excited to show you guys all the awesome stuff you're gonna be able to put your art on.
DISCLAIMER: This post contains affiliate links to services that I have researched fully and highly recommend. I will receive a small commission if you purchase through one of these affiliate links, but the price you pay is the same.
How helpful was this post?
1 Star: Oh man, that sucked… 5 Stars: Good God, it's brilliant!






(36 votes, average: 4.69 out of 5)


Loading...
---