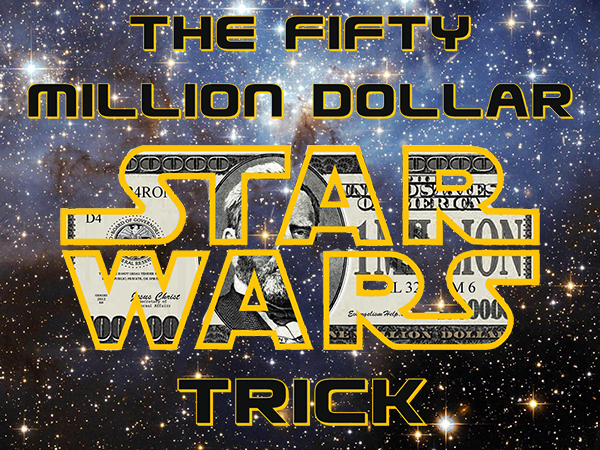 Use this one trick to get your followers off of your Instagram and into your online store!
Did you know that the new Star Wars movie sold over 50 million dollars worth of tickets a full month before the movie even hit the theaters? It did. In fact, it was the biggest pre-sale of movie tickets in cinematic history.
How did they do it? They've got Jedi mind powers.
Duh.
Oh, and a really good marketing team.
This is the strategy they used
#1. Build interest with sneak peeks and short trailers
For over a year before the movie was released, the marketing team has been releasing short trailers with little bits of new footage to hype up the fans and show them just a little more each time.
#2. Build anticipation
A little over a month before the official release, they leaked a "rumor" that they were going to be showing a new trailer (the final trailer) with a glimpse into a major plot point during a live broadcast of Monday night football.
On the night of the game, with their fans tuned in and eagerly waiting to see the new trailer, they made good on their promise.
But that's not all they did.
#3. Withhold important information
You see, when they leaked the info that they were releasing a new trailer, they deliberately left out one small detail. Know what it was? It was four little words that made movie history.
Tickets on sale now.
Those four little unexpected and deliberately withheld words shut down ticket sellers all over the US with an avalanche of hungry fans racing to shell out their hard earned cash for a movie that wouldn't be released for at least another month.
Had they simply announced the news that tickets were available if people wanted to buy them, the effect would have been completely different and completely underwhelming.
#4. Deliver the goods
The genius of this strategy is the promise of something good and the delivery of more than was expected.
The result? 50 million dollars in pre-sales.
That, my young Padawans, is kick ass marketing. Or some really powerful Jedi mind trick. (By the way, I bought my tickets weeks ago and by the time you read this I'll have more than likely seen it twice!)
What can we learn from this?
Well, honestly everything we need to know about marketing our art on Instagram and getting our followers off of our Instagrams and into our online stores.
How to use this technique for your art
#1. Build interest with sneak peeks
For us, our Instagram account serves as a "media outlet" that gets our followers excited about our art.
The trick is to show our followers just enough to get them engaged with what we are working on but not enough that they feel like they've seen it all. To accomplish this we use WIPs, or works in progress.
When I use this technique on my own Instagram, I like to start with a photo of the rough compositional sketch. Showing my roughs give my followers a good idea of what I'm working on and gives them a glimpse into my process and gets them excited to see how I'm going to color it. This is the only time they will see the whole composition until well after the drawing is finished and I've sold a lot of prints.
The comment I write for this first post is important. Often I'll make a remark about how difficult it's going to be and how I must be crazy to do this to myself. Most times I really feel that way since my original drawings have a tendency to be pretty complex. So while posting a comment like that is a true statement, it also has the effect of getting my followers to chime in and offer encouragement and/or advice.
They have now become engaged in the process.
#2. Build anticipation
A few days later I'll post up a WIP of the coloring process. I make sure to have some key elements finished like the face and hair, but I also make sure to leave some key elements completely uncolored. This gives them a peek into how the drawing MIGHT look but doesn't completely satisfy their curiosity.
Again the associated comment is important. At this point I'm usually pretty happy with how it's going so I'll make a comment about a part of the drawing I really like. My followers most often reply with comments of affirmation and encouragement. It's kinda like cheering for the home team at a football game.
#3. Withhold important information
A few days after that, I'll post up a cropped image of the finished work. More often than not it's a close crop, meaning just the most exciting or interesting area of the composition.
My comment this time is critical to the success of this system. This comment in combination with the tight crop is what gets my followers off of my Instagram and on to my sales page.
With this comment I usually say something slightly scandalous. Something along the lines of how I'd really like to show the whole drawing but Instagram won't let me, and that if they want to see the finished work all they have to do is follow the link in my bio (to my store.)
If you've seen my personal work, you know that this is often a true statement as my personal work ranges from the slightly inappropriate to borderline obscene. The truth is Instagram really WON'T let me show the whole drawing most of the time, but sometimes I'll show more than they allow and every time I do they quickly delete the photo. When that happens my followers go crazy!
Since I can't show the finished work on Instagram, there's only one way my followers can see the drawing they've been waiting to see all week. They have to leave my Instagram and go somewhere else to see it.
And they do.
Every time I do this, the gallery page on my store gets hundreds of visits on the day of the final post.
Every time.
On average, if I have two hundred people visit my store, 10 of them will find something they like and buy it. Right now I only have prints for sale and I'm not using any special marketing tactics once they get to the store, so 10 out of two hundred is pretty low and I could certainly do better. But my prints are 15$ each so 15×10= $150 in sales before PayPal takes their fee.
Now I know that most of you can't use my "not safe for Instagram" approach to getting people to your store, but you can use something similar.
For example, if you draw in any format other than a square, it's really hard to show the entire image unless you take the pic from a distance, which sucks anyway since the image winds up being small. So this is a really good reason not to show the entire finished drawing.
You could also use more sensational tactics like…
Too beautiful for Instagram, or too detailed for the Instagram square, or so outside the box it won't fit Instagram's box. (OK that last one is kinda lame but you get the idea.)
#4. Deliver the goods
The point is this – you can use this tactic to get your followers to go to your store whenever you want them to and you can do it without ever mentioning you have anything for sale or asking them if they want to buy something.
This tactic really works and I have used it successfully many times, but you have to use it wisely. Don't be tempted to go over to the dark side. If you use this tactic for EVERY drawing you post, your followers will begin to feel cheated.
So don't do that.
So there you have it. My 50 million dollar Star Wars trick for getting your followers to go to your store.
But keep this in mind. Getting your followers to GO to your store is one thing. Getting them to buy something while they are there? Well that's a Droid of a different color. I'll talk about that in depth in a future post.
As for right now I think I'll go see Star Wars again.
Nothing more will I teach you today.
How helpful was this post?
1 Star: Oh man, that sucked… 5 Stars: Good God, it's brilliant!






(23 votes, average: 4.91 out of 5)


Loading...
---