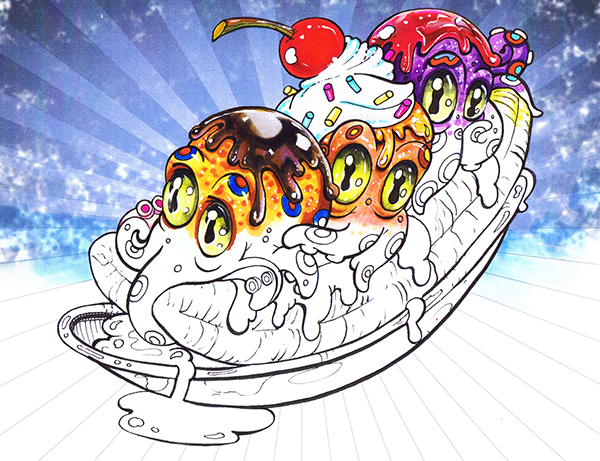 I have always hated the word realism, at least as it applies to art. I think it's because I'm not really sure what the word is supposed to mean exactly. In fact, not to get all existential on you here, but I'm not really sure the words art and real in any form actually go together very well.
If you look up the word real in the dictionary (online of course), this is what you'll find:
Real
Actually existing or occurring in fact; not imagined or supposed.
By that definition, it seems impossible for any work of art to be considered realistic. Oh sure, the work itself is a real thing, it's composed of matter and has all three dimensions, but when we try to apply the word real to any type of subject matter things start to fall apart.
For example, with the definition of real given above, it would be impossible to paint a realistic mermaid, dinosaur, or any other thing that can not be directly observed as existing in nature.
Even painting things that do exist and can be observed doesn't qualify those works as realistic, no matter how much fidelity to the real world we may strive for. You see, the colors we use do not, and cannot, accurately mimic the color of light. And since color is a phenomena of light, there is no way we can capture realistic color with the colors we have at our disposal. The best we can do is render an impression of light, and impressions by definition are not an accurate reflection of what is real.
Using the word 'realism' instead of 'real' doesn't help either.
The same dictionary defines realism as:
The quality or fact of representing a person, thing or situation accurately or in a way that is true to life.
Again, not very applicable to art. I suppose we could say a realistic portrait or landscape fits the definition fairly well, but even then we run into that pesky color problem, and we are still talking about pigments on a flat surface representing our impression of whatever it is we are looking at.
Honestly, when it comes to defining the real, I gotta tell ya, Morpheus said it best.
"What is real? How do you define 'real'? If you're talking about what you can feel, what you can smell, what you can taste and see, then 'real' is simply electrical signals interpreted by your brain."
Believe it or not, that's the definition I'm going with! Because with that definition, a whole new world of possibilities opens up.
If real is simply our brain's interpretation of outside stimuli, then anything can appear real or realistic so long as we follow the basic rules of light in nature. With this definition, any reality is simply an impressed or imagined reality, and imaginary realism is exactly what we need.
Imaginary Realism
For our purposes, and in my opinion, for the purposes of most art, imaginary realism is the thing to shoot for.
Let's define imaginary realism as:
Making a two dimensional drawing or painting appear solid and three dimensional by representing the subject matter in values of light, shade, and color, regardless of whether or not the subject being represented actually exists in nature.
With this definition we can make "realistic" drawings of any subject we choose. Mermaids, space creatures, anamorphs or octopuses on ice cream cones. You name it, we can do it. All we have to do is work to make each object in our drawings look solid and three dimensional. Our drawings can still be imaginative, and they don't even need to look photographic, they just have to obey the basic laws of light and shade.
So in the spirit of the new ism we've just discovered, let me show you how I color an imaginarily realistic, goofy little octopus with chocolate sauce on top.
Step One: Base Colors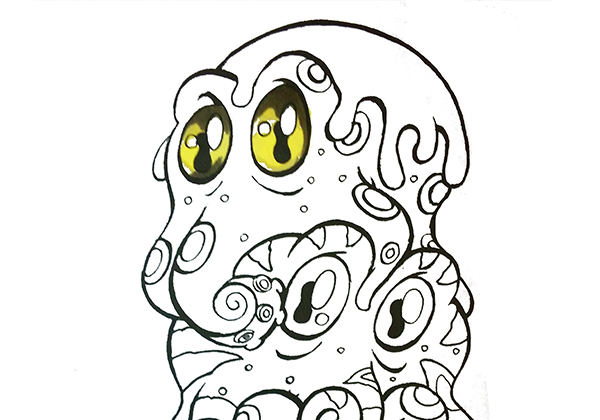 For this drawing, I will start with the eyes. For each of these little guys, the eyes will be the focal point, so getting them just right is critical to the overall success of the finished drawing. To begin, I lay in a flat, even layer of Y11. I use this color over the entire eye area except for where the white highlights are indicated.
I then lay in areas of dark at the tops and bottoms of the eyes with W7. This color will help add depth to the eyes and make them look round and three dimensional.
The value difference between these colors is very large but I don't worry about trying to blend them. I just lay them in flat and even knowing that the layers I put over the top in the next step will blend them perfectly.
Step Two: Blending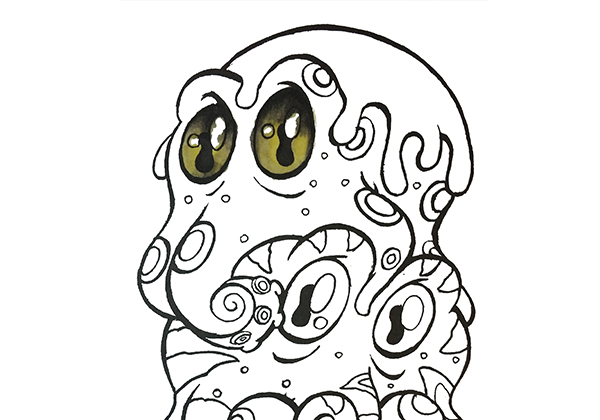 Next, I color in areas of W2. I use this color to soften the transition between the Y11 and W7, and in areas along the edges of the eyes. In the areas where the Y11 and W7 meet to form an edge, I scrub this color in with firm pressure, really saturating the area with ink and letting the lighter W2 lift and mix with the W7 to make an intermediate value.
To "blend" all the colors together, add another layer of Y11 over the entire eye area, including the dark at the top and bottom. This layer smooths everything out and makes the colors merge into one another exactly the way I want them too.
It's important to note that with this many layers in such a small area, the paper below becomes soaked with ink so much so that the colors start to bleed outside the lines. I don't care! I count on this bleed to get the blend I like and I know I'll color over the areas that bled out and no one will ever notice.
Step Three: Highlights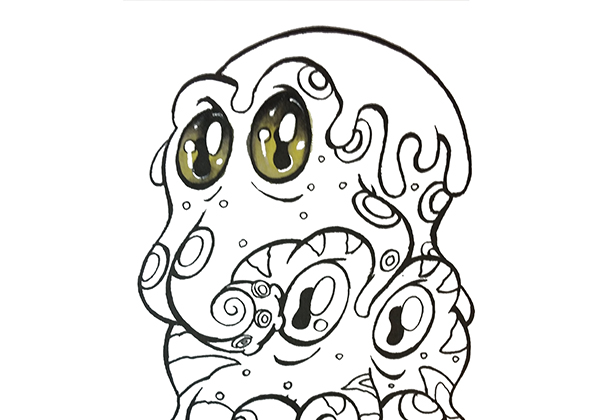 To finish off the eyes, I add my white highlights with M. Graham & Co. Titanium White Artist's Gouache. I use this white for all my drawings, mostly because it's nice and opaque, and because I can remove it with water and a cotton swab if I mess up. To learn more about the different whites you can use, read this post.
To color the octopus's body, I'll follow exactly the same coloring procedure as outlined above:
Base color
Shadows and darks
Layer the colors over each other to blend
Highlights
I color this way on every drawing I do and I always finish each area completely before moving on to the next. I never color the drawing as a whole.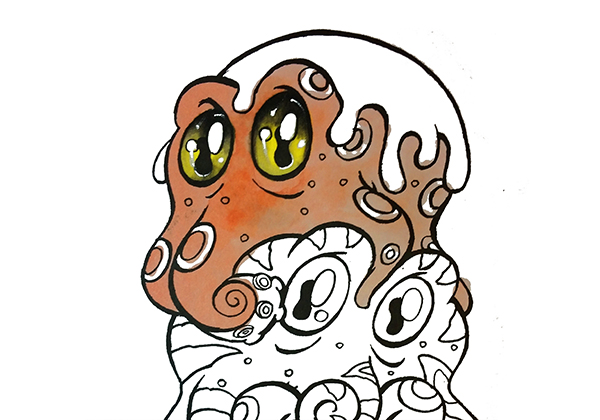 In this photo I have applied a base color of R11 over the entire body. I'm not worried if the color looks splotchy or uneven since I know I'll be adding more layers over the top.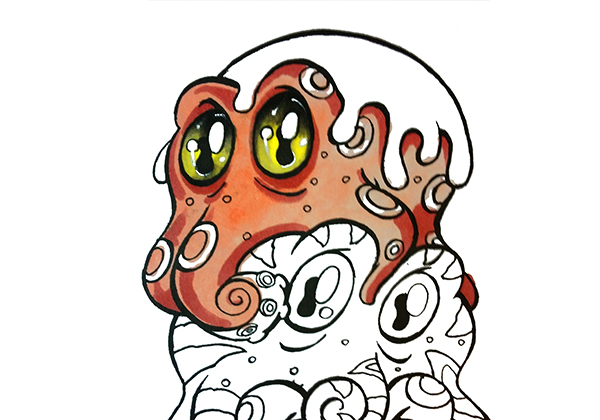 After my base color is applied, I add my darks with E04. Again, no blending and no concern if the color goes in smooth. I'm simply indicating where the forms turn away or round away from the imaginary light source. These darks are just the thing to add that feeling of a rounded solid form, and will help bring my imaginary Octo to life.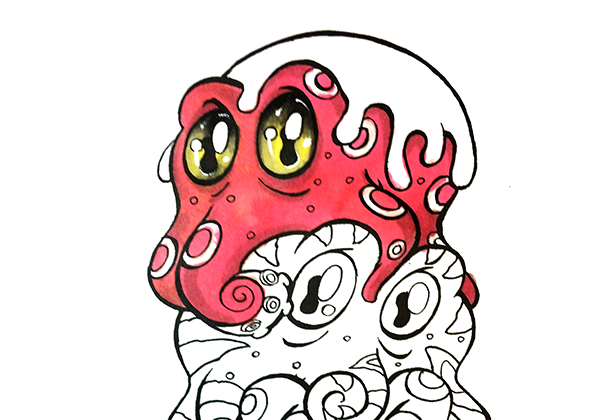 Next comes the blending step. Because I want this guy to really pop of the page, rather than blending my darks down with the same R11 I used for the base (which is kind of a dull, light color), I color over the entire body again, including the shadows I added in the last step, with a brighter stronger RV13.
Because the markers I'm using are intrinsically transparent, each of the under colors affect how the color looks when it's applied over the top of them. Remember that splotchy area in the R11 base? Rather than becoming invisible, it shows through just enough to add a nice bit of variety and texture in that area. Pretty cool huh?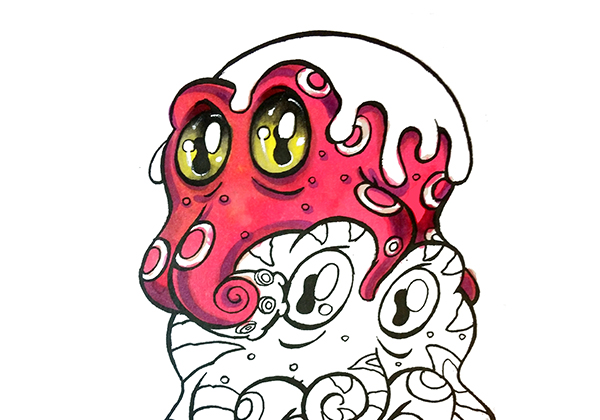 In this photo I have restated my dark areas with V15.  I do this to strengthen the contrast and to add more color in the darks. Color is your friend and there are way more colors visible in everyday objects than most people take the time to see. I chose purple because it's in the same basic color family as the RV13, but still different enough to add a bit of pop and accentuate the three dimensional qualities of the drawing.
After restating my darks, I color in another layer of my original base color R11 to soften everything together and homogenize the color scheme.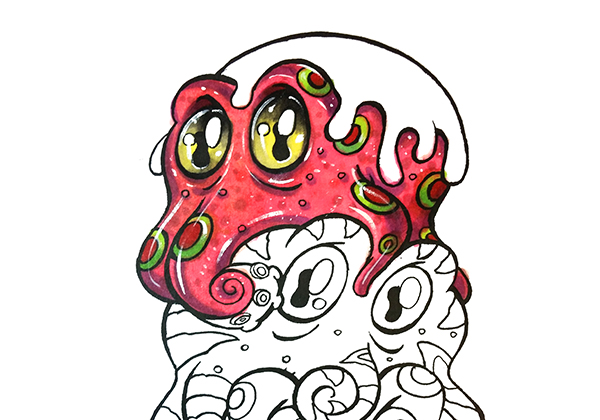 To finish off the body, I add texture in the form of dots all over. I think of these less as freckles or spots, and more as simple textures to break up the solid color areas and add interest for the eyes. I'll use any and all of the colors I have previously used if I think they will look good and add interest.
I also color in the spots with a complementary green and red color scheme which will play off nicely with the red-violets and violets I've already used, and create an overall split complimentary color scheme between red, green and the yellow-green of the eyes.
Finally, I add my white highlights to make the body look shiny and to add to the three dimensional effect. When adding my highlights, I don't confine myself to the strict laws of realistic placement according to light source. I use highlights for one reason only – to make the drawing look better. So I'll put them wherever I think they will add a positive effect. This is an imaginary realist drawing after all, and since no one has ever seen a real goofy bug-eyed octopus on a real ice cream cone, who's to say what is right or wrong?
Rule of the day….. if it looks good then it's right!
The Secret Sauce: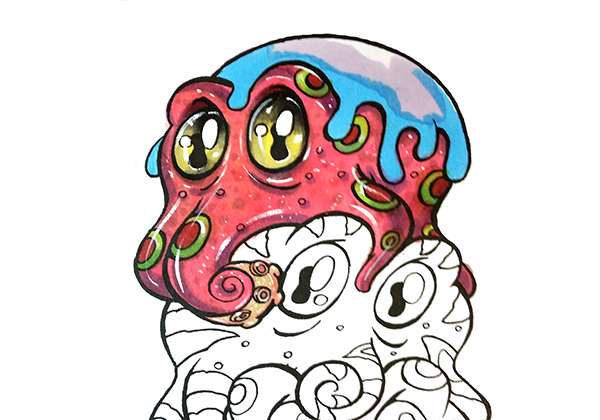 Coloring the chocolate sauce on top is the final part to this tutorial. Because chocolate sauce is very dark, I have the opportunity to add tons of color to this area. Most people don't realize that the human eye is not very sensitive to color changes in dark values. Because of this, when we add tons of color to the dark areas of our drawings, they still look like the right color but they feel more alive and vibrant.
In this photo I lay in my base colors with B02 and BV00. As before, no blending needed.
To finish it off, I use exactly the same procedures as before. Base, add darks, layer to blend, restate darks, layer the shit out of it 'til it looks good using whatever color I think will work, add highlights.
The colors used for the chocolate sauce were:
B02
BV00
E29
E99
If I were to finish the whole drawing, the basic steps would be the same and I would complete each area one at a time. In my opinion, this really is the best overall approach and it's hella fun to do.
How helpful was this post?
1 Star: Oh man, that sucked… 5 Stars: Good God, it's brilliant!






(129 votes, average: 4.56 out of 5)


Loading...
---