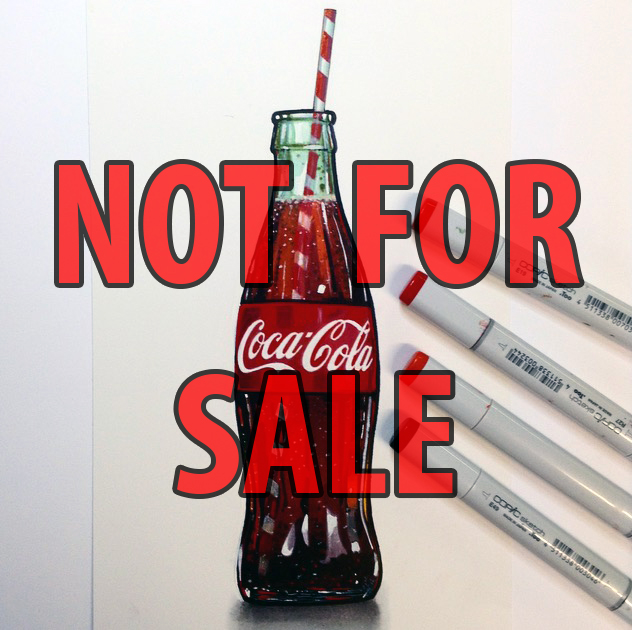 Deciding if you are ready to start selling your Copic art can be hard. Really hard. But sometimes deciding if you really even want to sell your Copic art can be harder. In the next few blog posts I am going to be covering the "how to" part of selling your art, but before I do, I want to talk to you about why you should want to sell your art in the first place.
A while back I asked a group of my followers on Instagram the following question, "if I could show you how to get better at your art, or how to market and start selling your art, just as it is, right now, which would you choose?"
I was honestly surprised by their answers. When given the choice, nearly everyone chose the "get better" option. Keep in mind I had chosen the people I asked carefully. I knew all of them were serious about their art. All of them draw several times a week, and all of them in my opinion are good enough to be selling and earning an income from their art. But most of them weren't ready. Their art was ready but they were not, and the few who were ready said they didn't know how.
3 Reasons you Should Want to Sell Your Art
The question of why you should want to sell your art is an important one, and needs to be answered by every artist before they start promoting their work for sale. The first reason you should want to sell your art is obvious.
You'll Make More Money
Even if you don't want to turn your passion for art into your full-time job, would you really be upset by adding a few hundred dollars or more to your monthly income? Probably not. But there is a deeper reason to want to make more money, and it's a much more artistic reason too. Promoting your work as "for sale" and actually selling the work you make brings in a second source of income that is perfect for buying more art supplies and for easing the day to day financial needs that keep you from having enough time to make more art.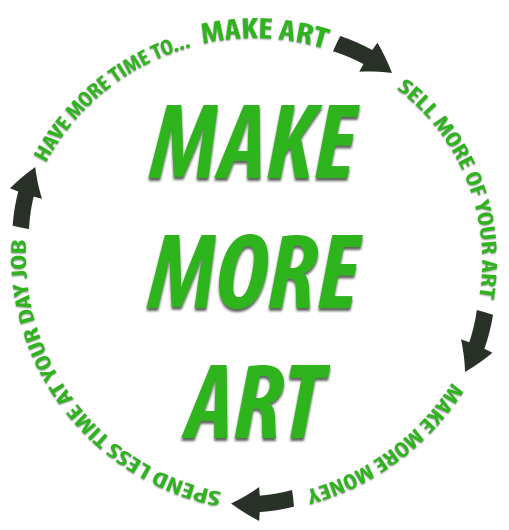 In short, when you sell your art, you make money to buy you time to make more art. We've all heard the saying "time is money", but the reverse is even more true – money equals time.
Please notice that I used the word work instead of art a few sentences back. Why do you think it's called 'artwork'? Well, because it takes work to make art. I'm betting you wouldn't go to work if they didn't pay you, right? I can tell you it's a whole lot better to get paid for the artwork you would already be doing for free. Getting paid to do what you would do for free is awesome. Promise.
You'll get Better at Making Your Art
A more fascinating reason you should sell your art is so you can get better at making your art. We've already established that money equals time, so the more art you sell, the more time you have to make art, and the more art you make, the better you get at making it. But it goes further than that. In order to sell your art effectively, you need to be able to promote your art effectively. (We will cover this more in a future post.)
Don't be scared by that word promote. In this context, promote simply means "to talk about". Talking about your art gives you a much deeper understanding of how and why you make the art you make, even more so than actually making the art. When we sit down to make a drawing, we are in creative mode. We don't often think, "why am I making this drawing?" or "why did I put that particular color in that particular place?". When we create, we just do things because they feel right. We are using the creative side of our brain. But when we have to talk about our work, it's a different story. Talking is a function of the logic side of the brain. In order to talk about something in depth, we have to know about the thing in depth. We have to analyze it, rationalize it, explain it. When you analyze and explain your artwork to someone else, you will learn things about it even you didn't know. Remember, you weren't thinking when you made it, you were doing.
Think of it this way, how many times have you actually solved a complex problem in your life by talking about it with a trusted friend? Talking about your art is just like that. When you start talking about your art in positive ways you'll start to understand your work on a deeper level, and that understanding will translate into making better art.
So there you have two good reasons, and I hope they've gone some distance towards convincing you that you should be selling your work right now. But, if you're still on the fence, let me give you one more. I've saved the best for last…
You'll get Validation
This is the best reason I can give you for why you should want to start selling your work. Let me explain. As human beings we are social creatures, and this is especially true for artists. We all need validation. If you think about it, the whole reason we put our work up on our social media sites is to feel validation for the hard work we put in. We post….. and then we check for "likes". We look to see if anyone left a comment. We hope to get more followers. We really hope that people will see and appreciate the work we've done. We're looking for validation.
When it comes to social media, validation takes on many forms. On Instagram, for example, people can do several things to show their appreciation for your work. They can like an image with the quick double tap. This offers some form of validation, it is a like after all. But it doesn't take a lot of effort on the part of the liker. Because they are quick and easy, likes are easy to dismiss.
A higher form of validation is a comment. When someone comments on your work it means they took the time out of their busy day to tell you how much they like what you've done. And that feels good. But we artists are generally picky sorts of people. It's much too easy for us to dismiss a positive comment. We might think the person doesn't have the credentials to determine good art from bad, or we might think they were just being kind. In any case, because we see the flaws in our work, we assume anybody who doesn't must be blind and therefore not a credible source of validation. (By the way, you should be much kinder to yourself than that. We'll talk about that more in a future post as well.)
Even better than the comment is when someone decides to follow you. Getting a new follower is a high form of validation. When someone follows you, it means they want to see more. It means they really like your work. For all intents and purposes, a new follower should be an excellent source of validation, but again, because we are the way we are, often times even that is not enough.
So…. We all need validation but all too often we dismiss credible sources of validation when we get them. So what's the best way to feel validated? Getting paid.
The highest form of validation comes when someone buys your work. They work hard for their money, they traded a part of their life to earn it, and now they want to give it to you. They appreciate your work so much that they feel that owning it and having it in their home with them would make them happy.
Now that's validation.
When we feel validated as artists, we gain the confidence to make more art. When we are confident that our art is appreciated, we make better art. When we make better art, we feel better about ourselves.
So the bottom line is there are lots of reasons to want to sell your art, not the least of which is the amazing sense of accomplishment you get when someone appreciates your work enough to make it a part of their daily lives. When someone buys a piece of your art, that art affects not only them but anyone else who sees it. The work you make has the ability to impact more people than you can imagine. And what better way to feel validated in the work you do than to know that you're making someone else's life a little bit better.
So are you ready to start selling your Copic art?
I'm betting for some of you the answer is still "not yet". I'm guessing you still have doubts. You may think you're not good enough yet, or that you don't have an individual style. Perhaps you think you don't have enough work in the same style to really make a go of it. Well hang in there, we'll start talking about these things in the very next post. Until then, do me a favor. Think about the things you could do with more time, more money, and more confidence. And remember, these posts are a two way street – a conversation, not a monologue. Let me know in the comments below what's stopping you from selling your art. Together we can find a solution.
How helpful was this post?
1 Star: Oh man, that sucked… 5 Stars: Good God, it's brilliant!






(27 votes, average: 4.44 out of 5)


Loading...
---