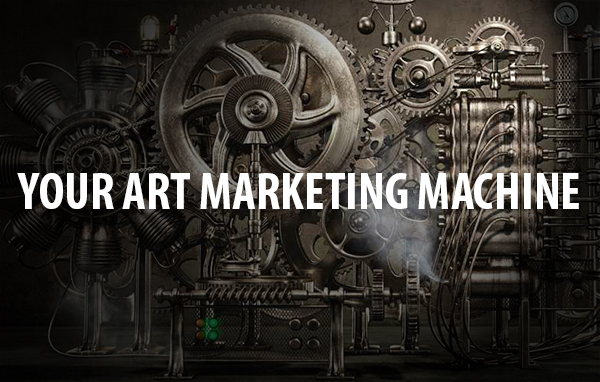 When it comes to showing your art to the world, Instagram is king. No other social media site comes close. In the first half of 2015, over 1,000,000 dollars worth of art was sold on Instagram making it the worlds fastest growing art gallery both on or offline.
In a May 2014 article, Vogue magazine called Instagram "the world's most talked-about new art dealer". According to the article, Instagram is "not only launching the career of under-the-radar artists, it is providing the world with an entirely new way to access art. Where artists once had to first get support of the art world elite—critics, galleries and big name collectors, which would eventually lead to museum shows—before reaching the monied masses, today artists use Instagram as their own virtual art gallery, playing both dealer and curator while their fans become critics and collectors, witnessing the creative process in real time."
It's a brave new world. As artists, we are no longer required to beg an art gallery to look at our portfolio, and the days of big city galleries demanding up to 60% of our sales is gone for good.
In the New World your future is in your hands and your audience is global. For the first time in history, artists have the tools they need to get their work seen and build an audience of patrons without any outside help at all. Instagram is the key – all you have to do is unlock its potential.
Every aspect of your Instagram account has the ability to either gain or lose followers for your account. In last week's post we talked about the impact that saying negative things about your art can have on your followers. This week I'm going to show you how to set up your gallery in a way that gets more followers and keeps your existing followers coming back for more.
What Your Followers Want
When a new or existing follower spends time on your account, they are there because they are looking for something. If you regularly post your art to your account, the chances are good that art is what they're looking for. To turn your Instagram account into an art marketing machine, you want to encourage those people who are "just looking" to become customers who are "looking to buy". This is not as hard to do as you may think.
Look at it this way, if you've ever walked into a department store and a sales person approached, you probably told them you were "just looking". But the truth of the matter is you made a point to go to that store for reason. You may be just looking but in the back of your mind you are looking for something, and if something amazing pops up, you might actually buy it. If someone arrived at your account, the chances are high that they are looking for your art, and if they see something amazing they may actually think of buying it. But to grab their attention and hold it you need to give them what they came there to see. What they are not looking for is what you had for dinner, your cat, your kids or your feet. They are there because they want to see your art, and that's what you should be giving them. That's ALL you should be giving them.
Optimize Your Art Marketing Machine
When working with artists to optimize their Instagram accounts, one of the big things I look for is the overall impression their photos make at first glance. Not their individual  photos but all of their photos seen together as a whole. If you think about it, when you open up your Instagram account on your phone or mobile device, the screen itself acts like a picture frame or store front display window. The first thing you see when you scroll down past the bio is a collection of your posts all together. This view is your first point of exposure to your audience. Just like a brick and mortar store front, the impression your virtual store front makes can have a huge influence on whether or not some one "enters" your "store" to browse or moves on to a store with a more enticing display.
Try this for yourself. Open up your account and scroll down past your bio. What do you see? Does the whole screen look like an amazing collection of beautiful art or are there areas that draw your attention AWAY from the art? Which photo is your eye most drawn to? Where does your eye look first? If the first thing you notice is not a photo of your art, then something is amiss. After all it is your ART account.
Let me show you what I mean. I've taken the liberty of creating an Instagram account to work with as I write these posts. (You can give it a follow if you like!) We will cover each section in a different post but for now let's take a look at the "gallery" section. Our artist has made the mistake of using his art account to post up personal pictures as well. We can forgive him for this 'cause he's not quite right if you know what I mean. When you see his account as a whole, which images stand out most?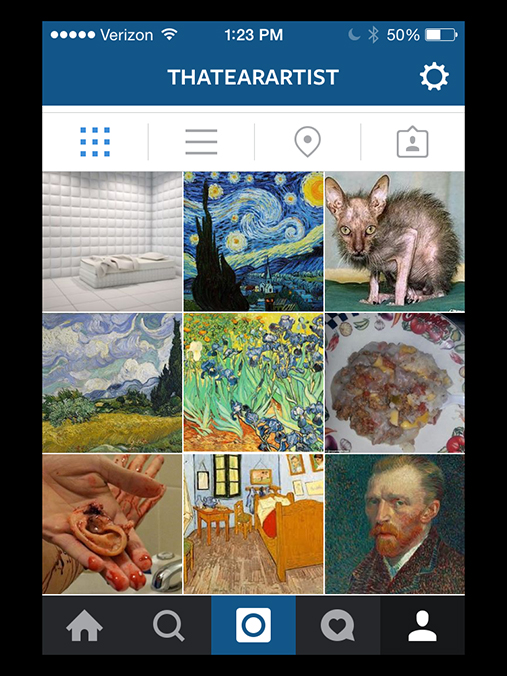 I don't know about you but I can't stop looking at that weird ass cat. This is not the way an art account is supposed to be.
Your art account should showcase your art. Rows and rows of it! Someone looking at your account for the first time should be able to tell at a glance what your account is all about. If they're looking for art and have to weed through pictures of food and feet to get it, they are not likely to look for long. Your art Instagram account should be set up so that a new viewer gets an idea of the type and quality of the art you do, and so your existing followers get lots of what they are following you for.
Making sure your art account looks like an art account may seem like a no brainer, but you'd be surprised how many artists get it wrong. Fortunately, it's an easy fix.
When you treat your art account like your personal online art gallery and store, and pay attention to the way you display your "wares", you create a place your followers will want to come back to over and over again. And that's a good thing.
Let's Get Personal
Before I go, I want to address the issue of non art photos in a positive way. There is nothing wrong with letting your audience in on your private life. Chances are if you're talking to your audience and answering their questions, they are starting to get a sense of who you are as a person and not just as an artist. When that happens they may actually BE interested in your cat, your kids, and what you had for dinner, though, they're probably still not interested in your feet. Showing photos of the things that are important to you, that impact and influence your life, can help build a deeper relationship with your audience. BUT your art gallery is not the place to do it. You don't want to be that guy who's constantly showing people he barley knows his vacation photos! No one likes that guy.
If you want to show your audience your personal life, the place to do it is a personal account. That way if they like your art and want to know more about you they can. But it's a choice they get to make! If you have an art account and a personal account and someone chooses to follow you on both, then you've already gone a long way past "just looking" and are one step closer to "looking to buy".
So take a quick look at your account and see what you think. Does it really show your art off to its best advantage or do you find your eyes wandering to that damned creepy cat? Make the changes you think you should make, after all, you never get a second chance to make a first impression.
How helpful was this post?
1 Star: Oh man, that sucked… 5 Stars: Good God, it's brilliant!






(37 votes, average: 4.65 out of 5)


Loading...
---