Marker Techniques for Colored Pencils
I am so excited about today's tutorial! Seriously, this may be the best tutorial I've done today!
It's no secret that I love my Copic markers. I honestly believe that Copics are the most versatile medium I've ever used. But they are expensive, and I know a lot of the 40,000+ readers of this blog don't have enough Copic markers to follow along with my tutorials. I'm sure some of you don't have any at all.
But no worries, I'm going to show you how to get around that today.
Today I'm going to show you step by step how to use the same exact techniques I use with Copics, but with Prismacolor colored pencils. So if you're one of the thousands of readers of this blog who uses colored pencils more often than Copic markers, this post is for you.
Before we get started, let me explain how this tutorial is set up.
On the left hand side, I'll be showing you each step I do with Copic markers. On the right hand side, I'll do exactly the same step, but I'll be using Prismacolor colored pencils instead of Copics.
Got it? Good.
Ready, set ….wait a minute. First, let's get a few misconceptions out of the way.
These are the top three myths people believe about using colored pencils:
Myth #1 – You can't use colored pencils the same way you use copic markers.
FACT – Yes you can. You can follow my Copic tutorials step by step with colored pencils and get nearly the same results.
Myth #2 – You can't use tons of layers with colored pencils.
FACT – Yes you can. While it is true that there is a limit to the amount of layers that you can use with colored pencils, the same thing is true when using Copic markers. With pencils, the secret is to use light pressure for most of your layers. Don't worry about coverage or blending in your first layers, just get the colors in there. In the final layers you'll use heavy pressure to get full coverage and blend.
Myth #3 – You can't use a white highlighter over wax pencils.
FACT – Yes you can. Seriously.
Ok, let's get to the damn tutorial already.
How To Use My Marker Tutorials When Coloring With Colored Pencils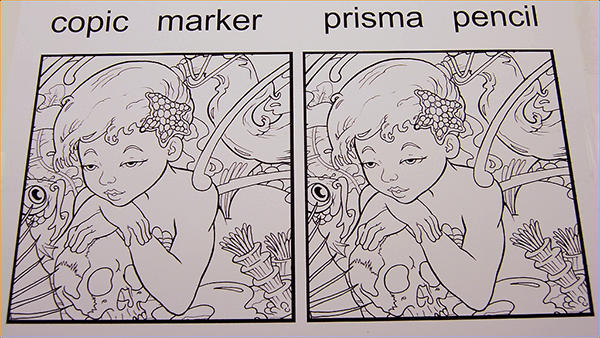 The drawing I'll be using for this tutorial is a section of one of the drawings from my new Color Academy Ink classes. We will be talking about the Academy a bit more very soon. But for now, just keep in mind that nearly every tutorial on this website, and every Academy class can be followed step by step, even if you're using colored pencils instead of markers.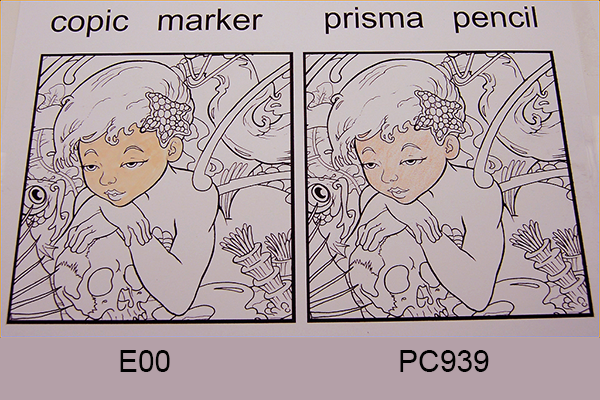 First, I lay in my base tone. I'm not worried about putting in a smooth, even tone at this stage, I just want to lay the foundation for subsequent color layers. On the Prismacolor side, I'm using very light pressure on the pencil.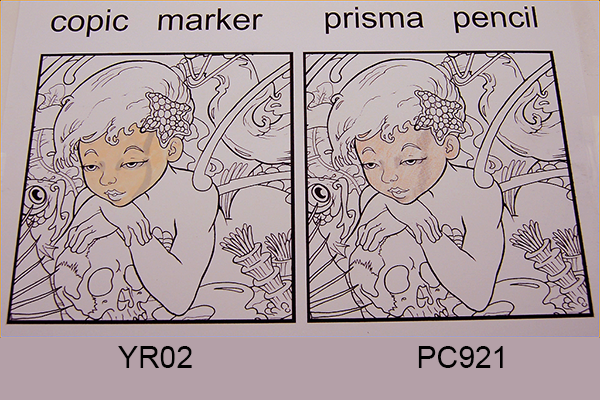 Next I separate the front of the face from the side of the head with a warm gray. If you look closely, you'll often see a slight shadow like this when a form changes direction. In art-speak, it's called a terminator line.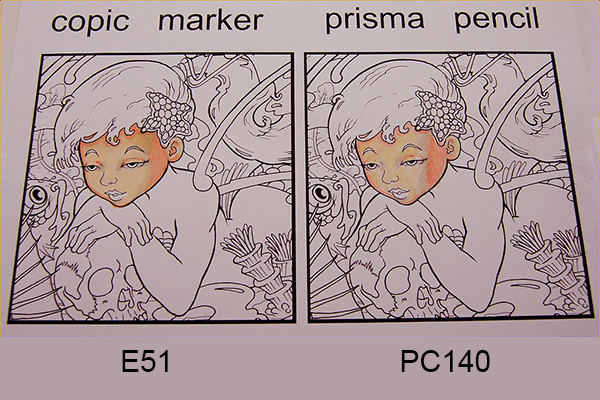 I add a warm color to the sides of the head, the tops of the eyelids, and under the hairline. The colors in her face are relatively cool, and a good rule of thumb is if your light areas are cool, your shadows and reflected lights will be warm, and vice versa.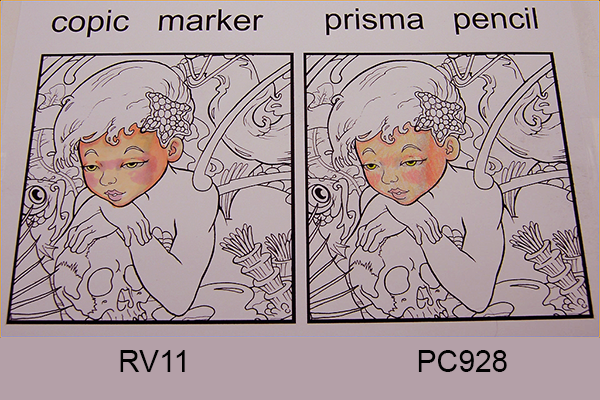 I add pinks to the cheeks and lip, and across the bridge of the nose. I also add a complementary green to the irises. In both the Copic and Prismacolor pencil examples, notice how roughly the color is layed in. It's a mistake to try and blend too early, so leave them rough at this stage.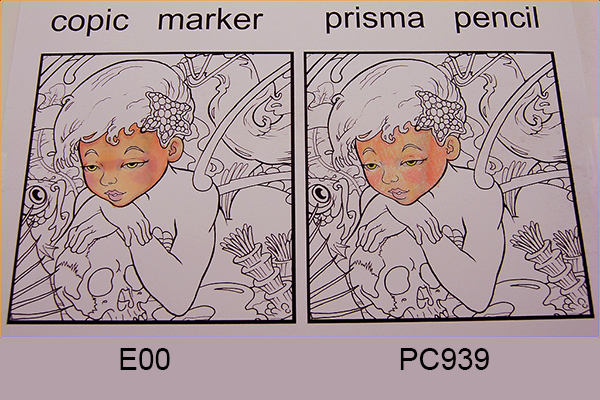 I use a slightly yellowish color overall as a blending layer.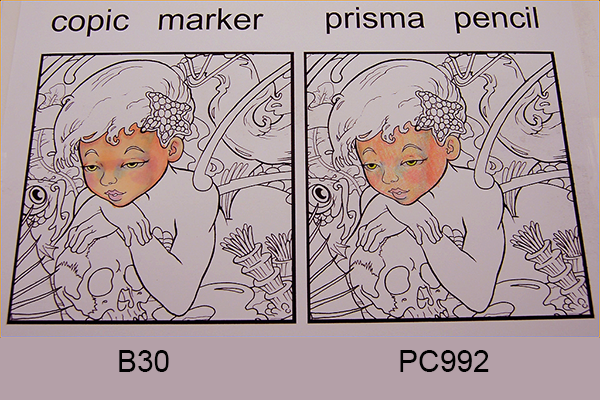 I add a cool blue anywhere I want the form to round away from a high spot. The sides of the nose, corners of the eye sockets, and under the bottom lip are all good places for this color.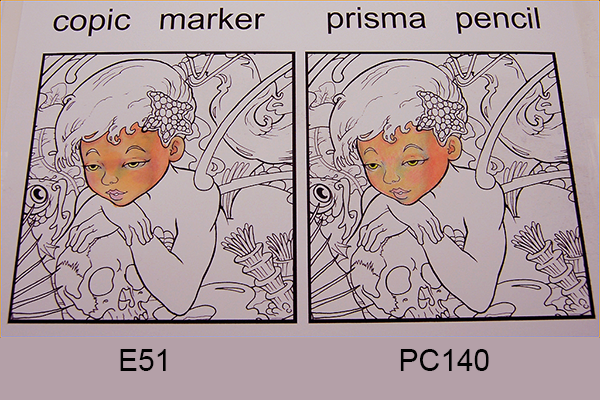 Another blending layer over everything. You can see the colors are starting to smooth out now.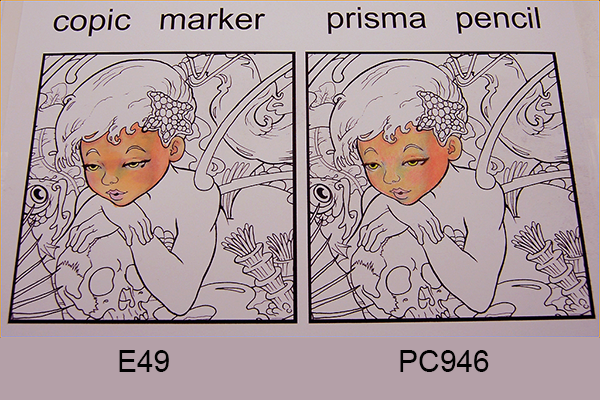 I accentuate the lash line and color in the opening of her mouth with a dark brown. The interior of an open mouth should never be colored black. Instead, use a warm, dark color in this area.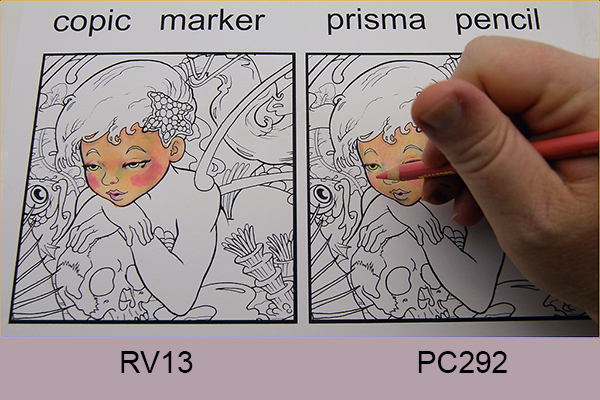 I strengthen the blush in her cheeks. The pink I'm using here is fairly intense, but I'll knock it down with subsequent blending layers.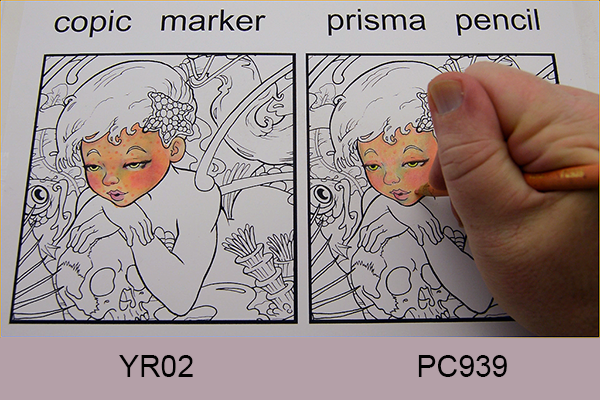 I add texture dots to break up any large, even areas of color and to add interest to the skin.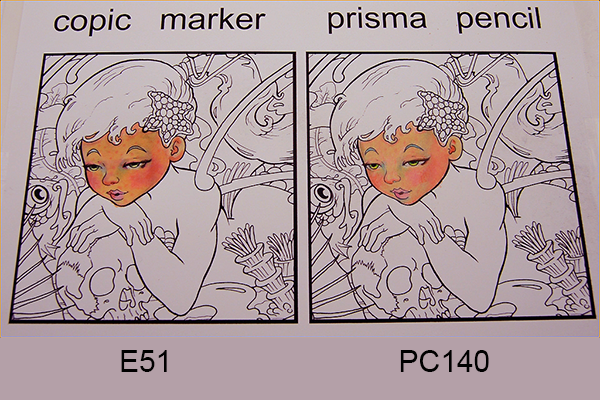 Another blending layer to pull it all together.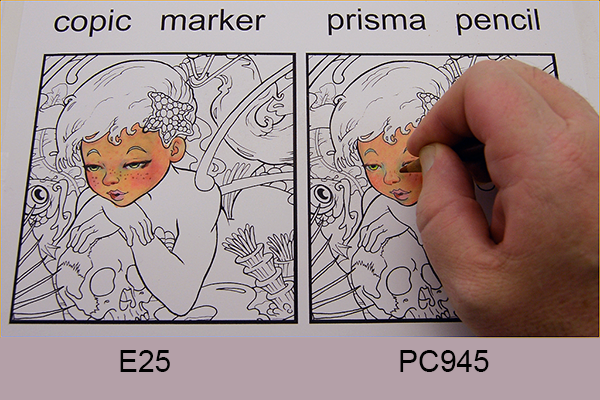 I add freckles. Mostly just because they're sexy.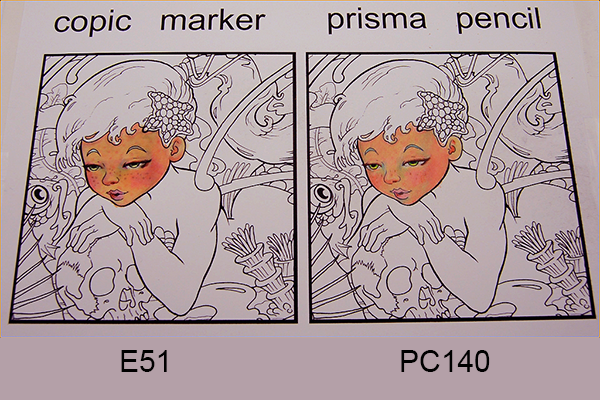 One more blending layer to soften everything out, and the coloring process is complete.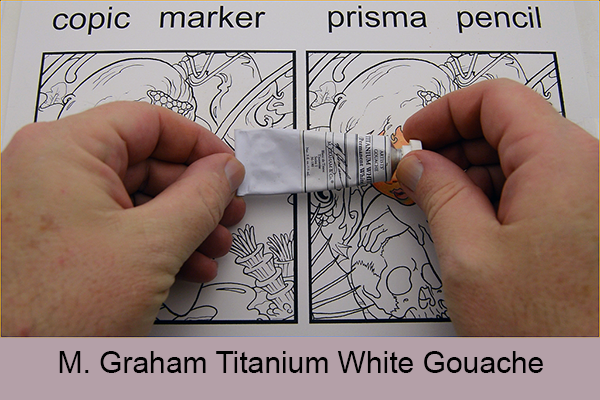 To add highlights, I'll be using M. Graham's Titanium White Gouache.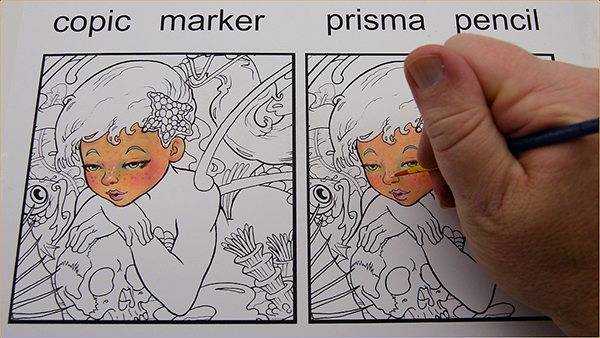 I place these highlights with a brush, and place them wherever I think they will accentuate the overall look of the drawing. I'm not overly concerned with trying to make these highlights match any particular light source. My only goal here is to enhance the drawing, not indicate the direction of the light.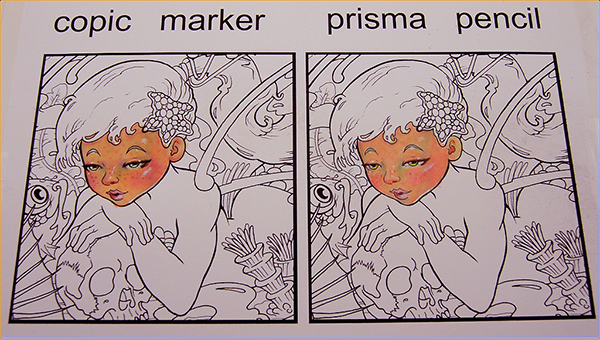 As you can see, the two drawings look remarkably similar regardless of which medium I used. The reason for that is simple. What I teach in my tutorials, and to a greater extent in my new Academy classes, are not just tips and tricks.
They are fundamental art principles.
What are art principles? I'm glad you asked. Art principles are foundational ideas that are universal to every medium. They are the why, not just the how. Let's face it, the "how-to's" of coloring anything are really pretty simple. Let me show you what I mean –
How to color with markers:
Uh…. take the cap off, put the tip on the paper, and move your damn hand back and forth.
That's the how-to. The why-to is what's really important.
Why use cools on the side of the nose? To make the sides round away from the bridge. See? That's the important thing to know.
So there you have it. Proof positive that:
You CAN use colored pencils step by step with nearly all of the Copic tutorials on this site.
You CAN use tons of layers with both Copics and colored pencils.
You CAN use white gouache to highlight colored pencil drawings.
Oh, and one more thing…
You can click here to get a practice page of this drawing to try out the techniques you just learned!
How helpful was this tutorial?
1 Star: Oh man, that sucked… 5 Stars: Good God, it's brilliant!






(258 votes, average: 4.66 out of 5)


Loading...
---