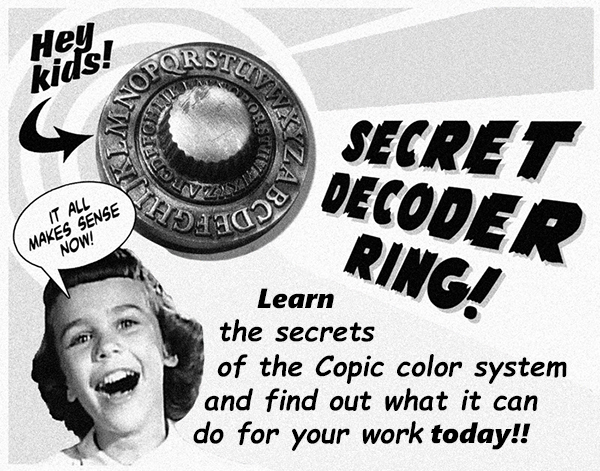 Have you ever wondered if Copic markers really are right for you?
It's a valid question…
Most of the information you find on the internet about what makes Copic markers so great is written by people who are trying to sell them to you. They talk about Copics being the highest quality marker in the world, and tell you how versatile and easy they are to use. They make it sound like all you need to do to improve the quality of your artwork is buy yourself some Copics.
But how much of that is true, and how much of it is just marketing spin? Well, over the next few weeks we are going to try to answer those questions is an objective way.
Today's article is the first in a series designed to help you navigate the world of Copic markers. Throughout this series we will take a look at the Copic color system, the differences between the types of markers Copic makes, and the best way to build a starter set if you decide Copics are right for you.
You can think of it as a Copic 101.
Now, if you've already invested in Copics and are building a collection of your own, I promise there will still be useful information in these articles for you too.
Today, we're going to take a close look at the Copic numbering system. We will learn what all those letters and numbers mean, but more importantly, we will learn how understanding those letters and numbers will make your work as an artist easier.
Demystifying The Copic Cap
As you may know, each Copic marker has a series of letters and numbers stamped somewhere on it. For the Copic Original and Sketch markers, they are located on the cap. For the Ciao series of Copic markers, they are stamped on the body of the marker.
Now I know that many of you have questions about the different Copic marker types – Original, Sketch, and Ciao – and we will cover those in depth in an article very soon. But for now I want to focus on the numbering system common to every marker Copic makes.
Let's look at an overview of the system in general, and then dive into specific examples.
Each Copic marker has an identifying combination of letters and numbers, as well as a specific color name. For our purposes, the color name itself is useless since it gives us no information about the color inside.
The letter on a Copic marker identifies the color family.
For example, a marker that has a capital "B" followed by a number is a member of the Blue color family. So B = Blue.
Currently there are 17 color families in the Copic lineup.
The Copic color families are:
E = Earth Colors
BG = Blue-Green
B = Blue
BV = Blue-Violet
V = Violet
RV = Red-Violet
R = Red
YR = Yellow-Red (Orange)
Y = Yellow
YG = Yellow-Green
G = Green
F = Florescent
W = Warm Gray
C = Cool Gray
N = Neutral Gray
T = Toner Gray
Most of the color families are pretty straight forward. When you grab a "B" marker, you're gonna get a blue.
The gray family and the E family are the exceptions. As you can see above, you have a lot of different choices in the grays – from warm to cool, to toner and neutral. Warm grays are a bit greenish, while cool grays lean towards blue. Neutral grays are theoretically colorless, without leaning green or blue. And toner grays are formulated to closely match the grayscale value structure your printer uses. The E color family is a little more complicated. E stands for earth colors, and the colors that are available in this color family range widely.
For example…


E00 is a very light orange…


while E49 is a very dark orange (brown).


E87 is very green…


…while E04 is a dull red…


…and E81 is almost indistinguishable from a warm gray.
So as you can see, the E color family has a ton of variety in terms of hue.
The important thing to note here, when it comes to the letter in front of the numbers, is that more or less, the letter in the Copic numbering system lets you know at a glance what color (hue) you're going to be getting.
Now let's take a look at the numbers…
Ok, now I'll admit that what I'm about to say will make me sound like a Copic nerd, but it really is a very important point. The numbers on a Copic cap are not a single number, and should be thought of and pronounced individually. What I mean is this… a marker designated E49 for example, is NOT "E forty-nine". It is and should be pronounced as "E four-nine".
Here's why this is important – each number means something different and gives you different information about the color. The first number after the letter tells you the saturation, or color purity of the marker. The first numbers can range from 00 to 9, with 00 being a super clean color, and 9 being a dirty color containing more gray. Remember, this number only indicates color purity, and has nothing to do with how light or dark the color is.
Let's look at an example using blue.

Remember, in this example we are only looking at the first number, therefore the swatches above are exactly the same value, or degree of light and dark. The only difference between them is the percentage of pure blue color each one contains. B0_ is 100% blue. B5_ is 50% gray, 50% blue. B9_ is 90% gray, 10% blue.
See how that works? As the number moves up the scale from 0 to 9, the color gets grayer but not darker. Now, I realize that the colors above may look darker to you as they move from 0 to 9, but I promise they aren't. The combination of white background and level of desaturation may make them appear to be different values, but in reality they are the same.
Now let's take a look at the second number…
The second number tells you how light or dark the color in the marker is. This number can range anywhere from 00 to 9. with 00 being very very light, just barely darker than the paper, and 9 being very dark, almost as dark as black.
Let's look at our theoretical example again and then add the last number…


As you can see from the bottom eaxample, the color gets progressively darker as it moves from 0 to 9. It is important to realize that the color purity is the same in both sets of swatches. Only the value has changed.
Let's recap!
The Copic numbering system consists of a series of numbers and letters
Each element should be pronounced separately (B99 is pronounced "B nine-nine", not "B ninety-nine")
The letter indicates the color family (B = Blue)
The first number indicates the color purity (B0_= pure blue, B9_ = dull blue)
The second number indicates the color's value (B_0 = light blue, B_9 equals dark blue)
Got it?
Good.
So how does this help you?
Well, understanding the Copic numbering system makes planning your color scheme and executing your final drawing much easier.
Here, let me show you… Let's say I want to color an apple…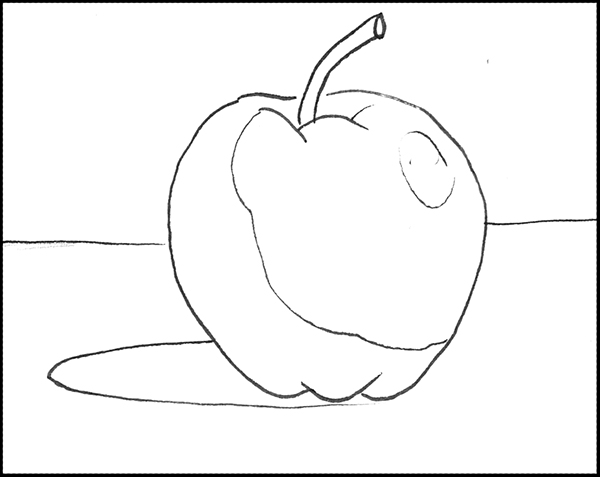 Now, without even having my markers nearby, I can use my understanding of the Copic numbering system to plan out my color scheme. I could do this anywhere, whether I have my markers with me or not. To accomplish this, I'll start with the basics…
I know I want to color a red apple, so my primary color family is going to be "R". Because I want my apple to look at least somewhat three-dimensional, I'm going to need a variety of purities and value in that R family group. I'll probably need a very light, very pure color in the highlight areas, so I'll need a R00. I'll also need a nice pure red in my middle tones, but it needs to be darker than my highlights, so I'll need an R07. For my shadow areas, I'll want a very dark red, but since it's in shadow, I'll also want a dull, desaturated red, so I'll choose an R95. Notice that my middle tone choice (R07) is actually darker than my shadow color, since 7 is bigger than 5. That's ok, because duller colors LOOK darker than purer colors, and I'll have a little reflected light in that shadow anyway. If push comes to shove, I can always lighten my R07 with my R00.
I still have my cast shadow, background, and tabletop to deal with. For the cast shadow, I'll choose a nice pure, dark green. Maybe a G39. Honestly, I'm not sure if they make that color. But since I'm doing this as a thought exercise, it doesn't really matter, and I'm sure they make something close. For the tabletop and background I'll keep it simple and use a W6 and W4 respectively. Those color choices will give the drawing a nice red-green complementary color scheme, with my reds maintaining dominance.
So my theoretical drawing now looks like this: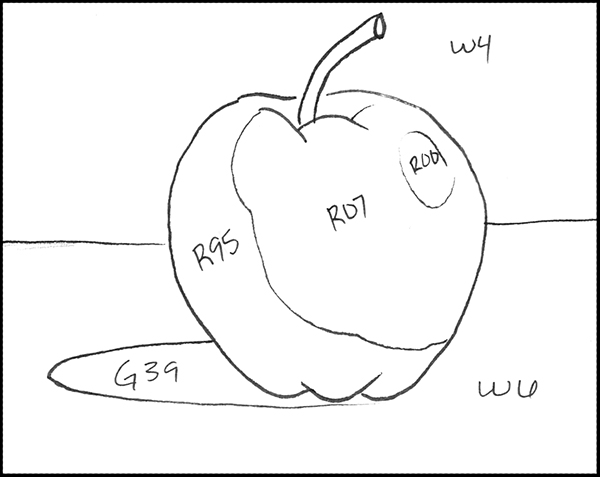 Now all I have to do is take a look at which markers I actually have. Copic doesn't make an R07 or a G39, so I used the closest colors I had on hand. It's not important that I have exactly the same colors as I imagined, as long as I have colors that are close. Using the colors I've outlined above (with R08 and G29 in place of R07 and G39), the finished drawing will look like this: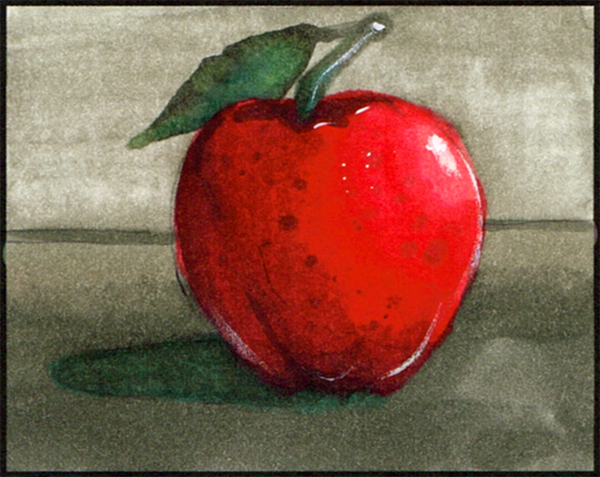 Colors used:
R00, R08, R95, G29, W4, W6
As you can see, understanding the Copic color system is actually very useful. When we understand the system, we can know what a color is going to look like before we use it. We can even pre-plan our drawing before we ever put marker to paper, and we can think of Copic colors in terms of actual color theory to help us make the best drawings we can make.
Honestly, The Copic color system is one of my favorite things about using Copic markers. The fact that I have so much information about any given color available to me before I ever pick up a marker makes my job as an artist so much easier.
So now you know! Let me know what you think in the comments below, and chime in with any other questions you might have about Copic markers 🙂
How helpful was this article?
1 Star: Oh man, that sucked… 5 Stars: Good God, it's brilliant!






(251 votes, average: 4.71 out of 5)


Loading...
---