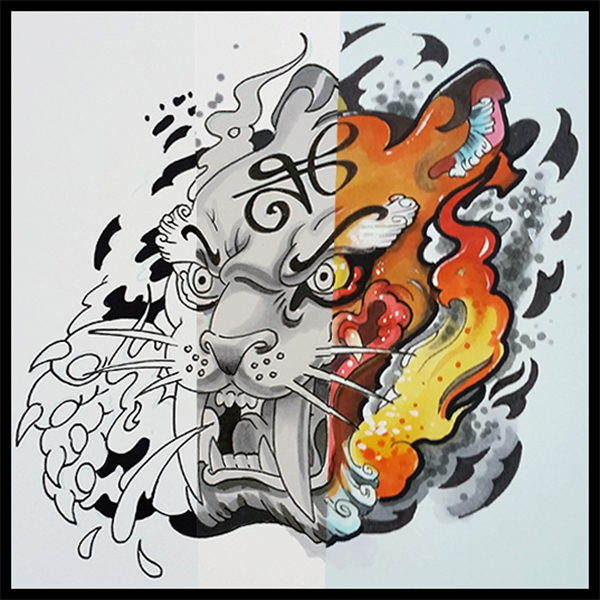 In this post, I'm going to show you how to apply a 200 year old classical oil painting technique to your Copic marker drawings. To the best of my knowledge, there are only a handful of marker artists who know how to use this technique, but none of them have simplified it in the way I'm going to show you today. So, if you want to take your Copic art to the next level and learn a secret technique that very few Copic artists know how to do, then this is the post for you.
But first, a little history..
The technique we will be learning today is called "grisaille". It's pronounced like this:
The word is French and comes from the root word gris, which means gray. The dictionary definition of grisaille is: a decoration in tones of a single color, especially gray, designed to produce a three dimensional effect.
The technique was brought to perfection by the French academic painter, Jean Auguste Dominique Ingres. Born in 1780, Ingres was one of the most sought after painters of his time, and with paintings like the one below, it's not hard to imagine why.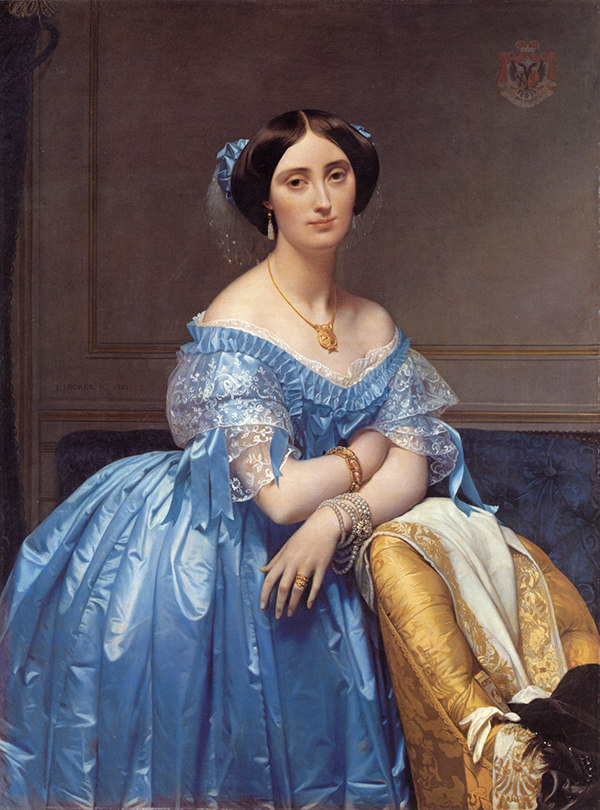 To execute the painting above, Ingres first completed an accurate line drawing from life. He then transferred the drawing to his canvas and rendered the work entirely in shades of gray. After the under painting was complete he glazed transparent oil colors over the top. He then finished the work with highlights and final details. We can see this technique broken down into its component parts in the two paintings below:
The black and white painting on the left was for some unknown reason abandoned by the artist before the color application phase. The one on the right is the redo the artist made using the same technique. We are very fortunate that the abandoned work and the final painting survived, as it gives us an amazing glimpse into this awesome technique.
How can this technique help you?
The reason this technique is so awesome is that it compartmentalizes the creation of a finished work into distinct steps, and makes each step easier to do.
The benefits of the grisaille method are:
Coloring with only grey simplifies the coloring process by allowing the artist to focus on light and shade without having to worry about color.
 Fewer markers are needed to complete the final drawing because the value structure is established separately.
 Less time is needed to complete the drawing from start to finish because the compartmentalization of line, value and color are broken into separate steps.
 Unique color effects are achieved that can't be accomplished with any other coloring method because the gray under-color shows through and modifies the transparent over-colors.
Creating the illusion of form is much easier when using only shades of gray, since most of us have plenty of practice doing it with pencil shading.
 It's easy to add transparent color over the top once we have the form established and the values finalized all with grays. Since the over-color is transparent, the values below show through, making it look like a perfect color gradation from dark to light.
Pretty cool, huh? Let me show you how to do it.
Step 1: Rough Sketch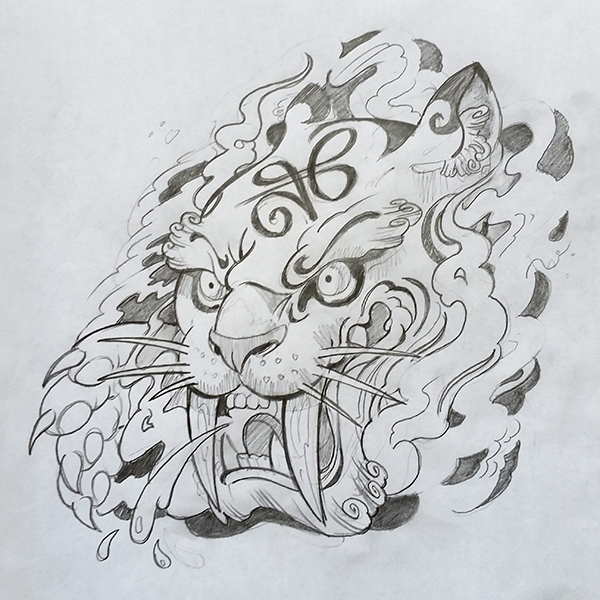 When I started this sketch, I had no other plans for it. Basically I was just playing around and drawing for the fun of it. I seldom shade my sketches like this, but this drawing kind of took on a life of its own. By the time I was done, I had what amounts to a fully rendered idea, so I decided to move forward with it.
Step 2: Blue Line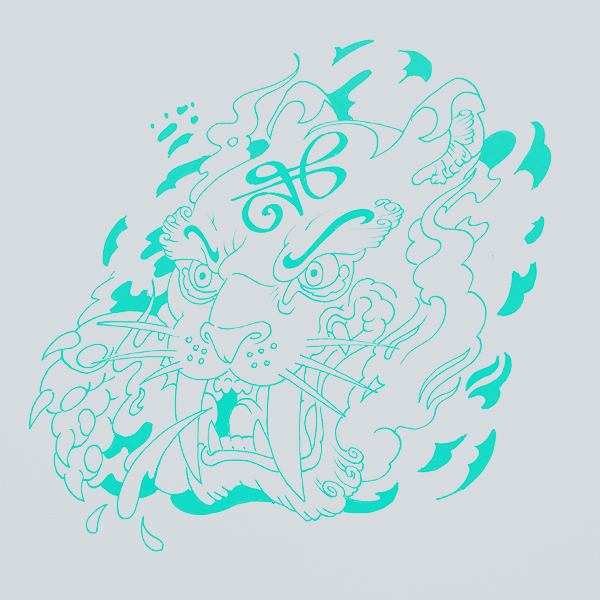 In this step, I scanned the original sketch into Photoshop and converted it to blue line. I do this step for every drawing I do. Converting my line work to blue line allows me to print it out on the final drawing paper so my coloring process never takes place on my original drawing. The benefits of this process are many, including always having the ability to reprint the line work if I make a coloring mistake. It also allows me to keep the original sketch, which is good because often I'll sell it along with the final color original.
Exclusive Bonus: Learn exactly how I convert my drawings to blue line in this FREE 7 minute tutorial video. Click here to watch.
Step 3: Grisaille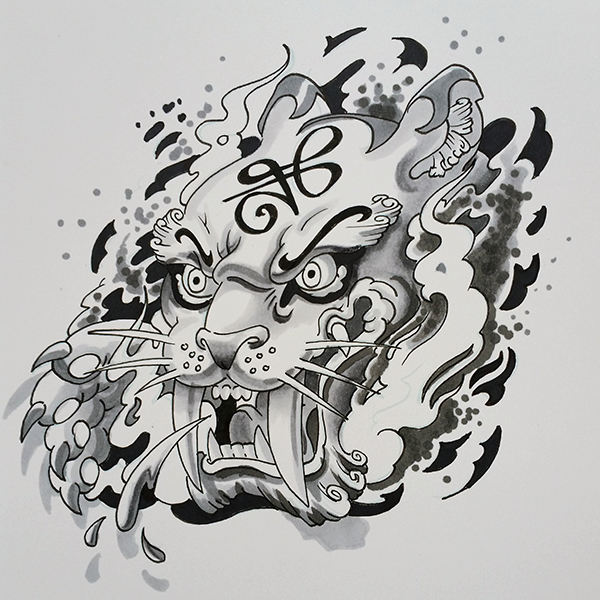 In this step I work to develop out the form and values. Coloring with grays is quick and easy and lets me know if the final drawing is going to work. When coloring with grays, all you really need to think about is the direction of light and whether or not the finished grisaille looks three dimensional.
After I've completed the grisaille to my satisfaction, I'll scan it back into Photoshop and print it out on my preferred coloring paper. Once again, this step acts as a back up. If I screw up while coloring, I can always print out another grisaille.
Printing it out like this also has another benefit – Inkjet ink is impervious to Copic ink, which means I can lay as much Copic color over the top of my grisaille without lifting, lightening, or otherwise disturbing the gray under-color.
Step 4: Final Color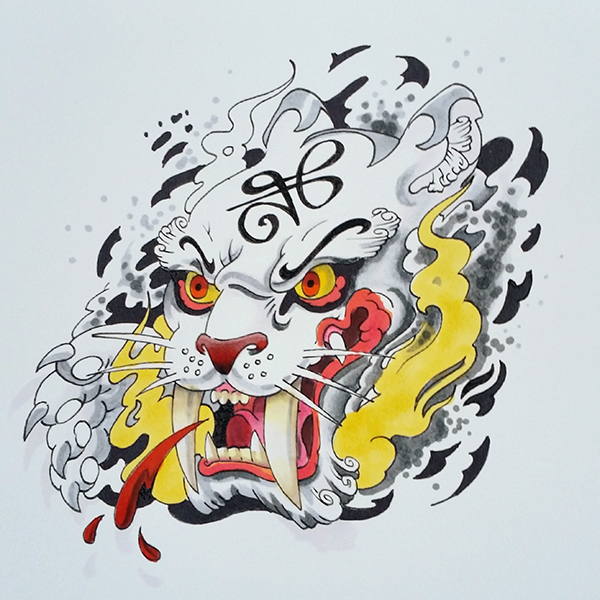 This step is really pretty self explanatory. I color the damn thing until it looks good. With the grisaille technique, the coloring process is really pretty simple. Since Copic ink is intrinsically transparent, the gray drawing underneath shows through every color I lay down.
For example, the greenish shading in the eyes is the gray showing through underneath the yellow. Since the gray I used leans a bit towards the blue, the combination of the transparent yellow on top and the blue gray underneath creates the color green.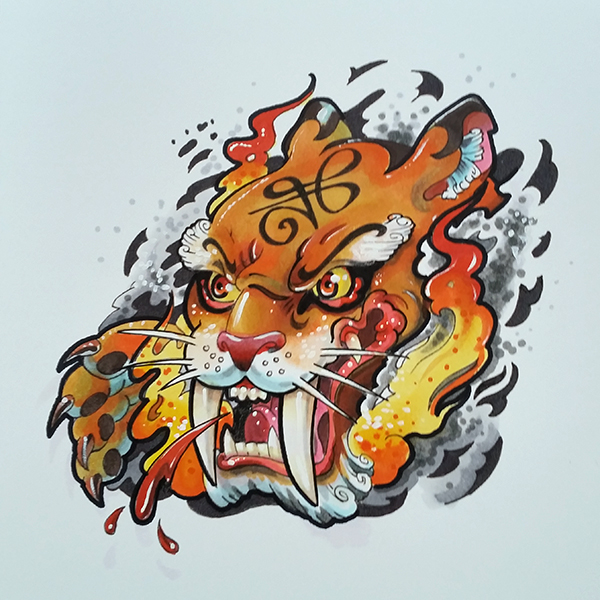 Grisaille further simplifies coloring since all the values are already established. What this means for you is that because the value structure is already established, you don't need to use Copic colors from light to dark. Normally, to color the orange color of the tiger I would use YR16, YR18, E97, E27, and Y32. For this drawing, because the patterns of light and dark were already established in the grisaille, I only need Y32 and YR16.
The final drawing from start to finish, including scanning and coloring the grisaille in grays and then laying in the final colors, took less than three hours. To execute the same drawing using a more traditional coloring method would normally take me six hours or more.
The colors used in this drawing were:
T1
T2
T3
T4
T5
110 Special Black
Y15
R29
YR68
RV13
B00
E43
YR23
0 Colorless Blender
Oh and one more thing…
The basic principals of this technique are applicable to almost every type of transparent media and to nearly every style of drawing. It also works for tattoo. So regardless of your genre or media of choice, you really should give the grisaille method a try, and if you do, be sure to post your drawing in the comments below. Go ahead and give it try, you'll be surprised by how much easier it is to get the professional results you've been looking for.
How helpful was this post?
1 Star: Oh man, that sucked… 5 Stars: Good God, it's brilliant!






(68 votes, average: 4.79 out of 5)


Loading...
---