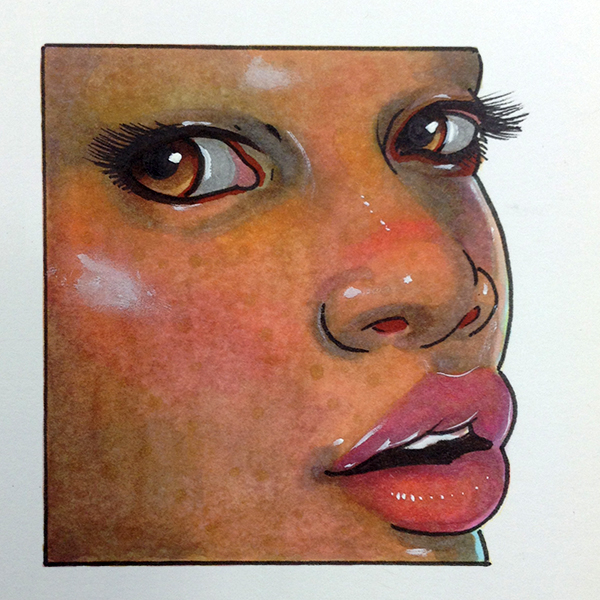 Coloring dark skin tones can be a challenge, and the truth is, there's not a lot of good information out there to help. Oh sure, a quick search on how to color dark skin with Copic markers will bring up tons of tutorials, but do you really need a tutorial to tell you that a combination of E25, E27, and E29 will let you color your characters brown? Besides, if you've read any of my other posts, you know brown doesn't exist, and no combination of any three E's will make a believable flesh tone, light or dark.
So what's the secret to realistic dark skin tones? Color. Lots and lots of color. Believe it or not, dark skin tones are loaded with color. There are blues and greens and purples and yellows, reds and grays too. In fact, the only colors that are poorly represented in dark skin are brown and black.
The Key to Dark Skin Color
If color is the secret to coloring dark skin, then saturation is the key to making all that color play nice together. While dark skin is loaded with color, most of those colors are super desaturated. You can put nearly any combination of colors together and keep them harmonious if you keep the saturations low. Thankfully, controlling saturation with Copics is easy. You can either choose desaturated colors to begin with by selecting colors with their first numbers in a range of 4 or higher, or you can desaturate your color with layers. Either way works well, but I like the second one best, and it's the method that I use in this tutorial.
The Basic Technique
My approach to coloring dark skin tones is really pretty simple.
Load the base layer with tons of bright color.
Desaturate the base layer with multiple layers of grays and browns.
Repeat/refine
Add details.
Let's go through them one at a time.
Step 1: Load the base layer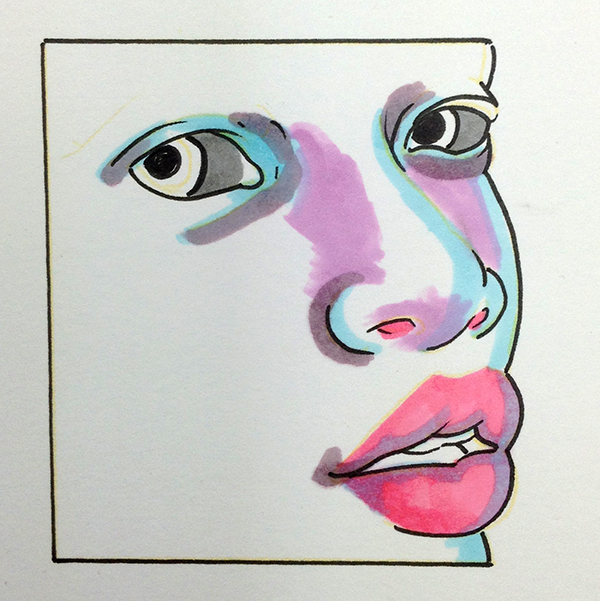 This is the fun part. In this step, almost any color is fair game. I've used RV13 and B00 on the lips, B00 and BV00 on the nose and in the eye sockets, and YG91 for the greens. That light pink color is R02.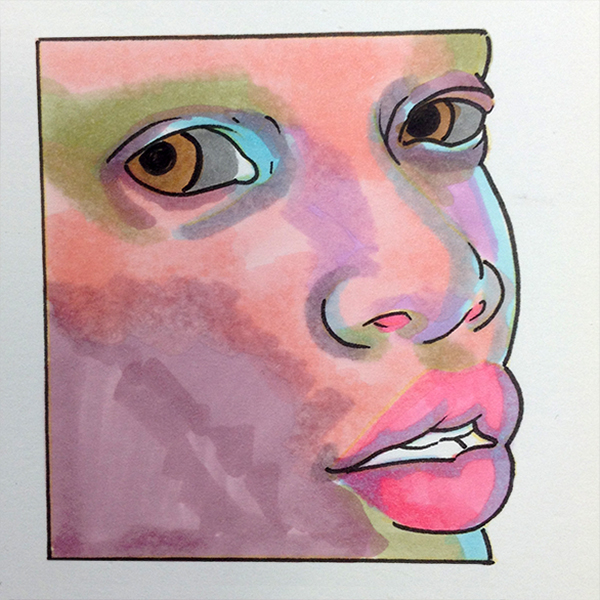 For the darker areas, I've used RV95, V95, and V12. These colors are visible on the cheeks and eyelids.
Step 2: Desaturate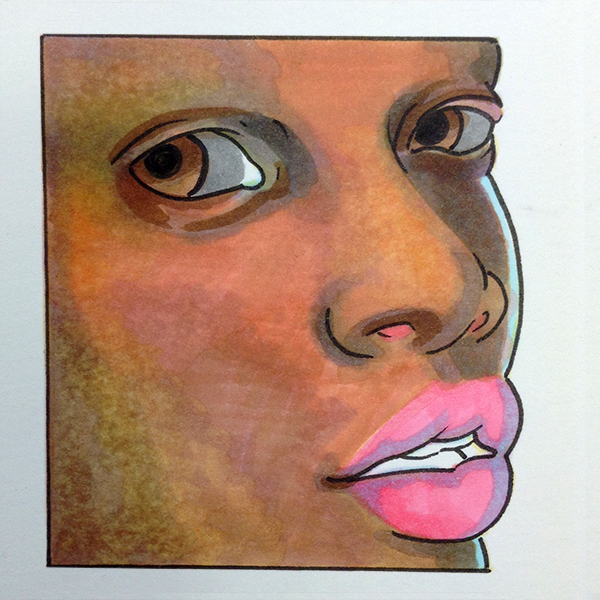 To desaturate the colors I used in the base layer, I use E23, E33, E55, E57, E70, and E71. I color each of these colors, more or less, over the entire skin area, except the eyes and lips, and layer one color over the other until I get the effect I'm after.
Step 3: Refine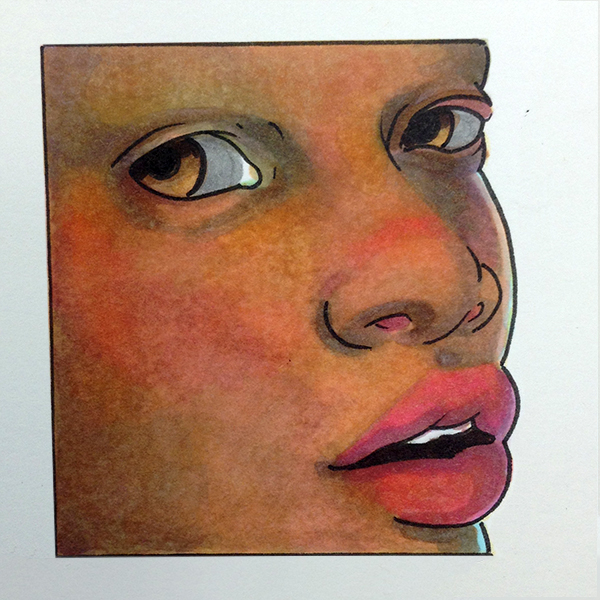 In this step we are back to anything goes. I'll lay in any color I think will help soften the color transitions and bring out the form.
Step 4: Details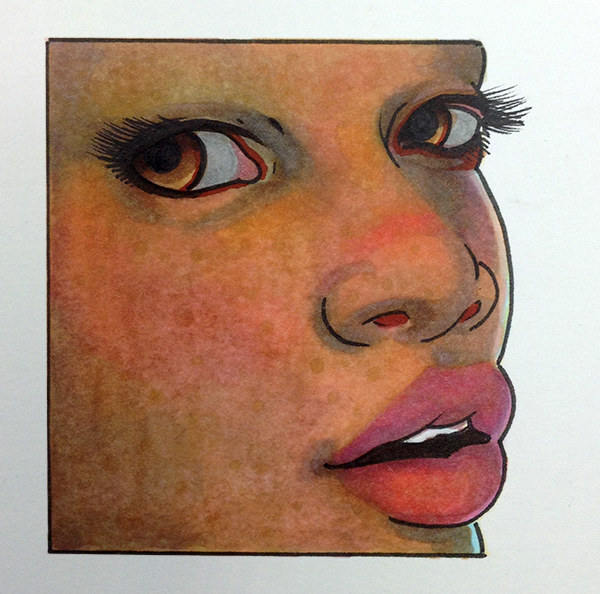 In this step, I add the blush to the cheeks and the textures to the skin. I also add the lashes, and accentuate the eyes with E49 and E09. The area around the lashes is the only place in the whole drawing where I use a traditional, brown colored marker. To finish the drawing, I add highlights with white gouache, and smudge it with my finger to soften it before it's dry.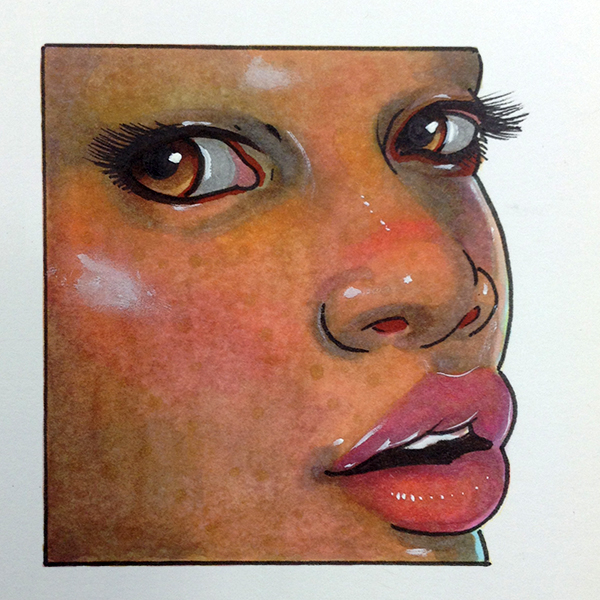 So the next time you need to color dark skin tones, give this method a try. You don't need to use ALL the colors I've used, or even the same colors, but the basic method is the same: start light and bright, and then layer your darks over to create beautifully translucent dark skin.
Let me know what you think in the comments below. I could do a video on this technique, but if you want it, ya gotta say so.
Colors used in this drawing:
E23 Hazelnut
E71 Champagne
E33 Sand
E09 Burnt Sienna
E55 Light Camel
E70 Ash Rose
E04 Lipstick Natural
E57 Light Walnut
E49 Dark Bark
R02 Flesh
R20 Blush
RV95 Baby Blossoms
RV13 Tender Pink
V12 Pale Lilac
V95 Light Grape
B00 Frost Blue
BV00 Mauve Shadow
Y21 Buttercup Yellow
YG91 Putty
W-5 Warm Gray No.5
T-2 Toner Gray No.2
How helpful was this post?
1 Star: Oh man, that sucked… 5 Stars: Good God, it's brilliant!






(44 votes, average: 4.43 out of 5)


Loading...
---